The winner is Spring Life Church!
Thanks to all who participated in the process and came to our Vote and Reveal Party. The winning selection was chosen with a 71.31% vote.
Dear Church,
Thanks for the prayers throughout the Church Name Change process. Yesterday afternoon we held our Vote and Reveal Party with a very strong turnout. With nearly 150 absentee ballots completed online and through the office, and about 200 folks in attendance yesterday, the winning name received 71.31% of the votes. And the winner is Spring Life Church!
What happens next?
There are a few behind the scenes steps that have to take place before you begin to see much of a visual difference. We have to setup our DBA with the banking and get the internet domain and email addresses solidified. Once those are in place we can work on the visual elements such as logo creation and "letterhead". It could be 3-6 weeks before this process is complete and up to 6 months to finish the entire process for all communication materials. There is very little cost incurred through this change that wasn't already on a work list.
All material concerning the name change process has been documented at springhill.life. We will continue to be a church focused on worshiping well, growing our faith in groups, and serving our community with the love of Christ. Thanks for being a part of this vital mission we're called to together!
Below you will find a copy of a pastoral letter emailed out earlier as well as all additional background information that has been provided through this process.
9/20/19
Good afternoon church,
As we embark on an important step in the life of our church I felt the need to respond to a few of the very real concerns regarding the name of our church.
The idea of a name "refresh" is not new. Many denominations have been downplaying their denominational names for many years. Within our own community the Wesleyan Church dropped Wesleyan years ago, and yet their DNA has not changed. They are still a Wesleyan church. Northcliffe Baptist is rebranding itself as "Northcliffe Church", and yet their website boldly proclaims their Baptist faith and heritage. The United Methodist Church began, 20 years ago, downplaying the denominational name in an attempt to reach more people. Within the last few years First UMC Brandon has been renamed, New Hope, and Van Dyke UMC, rebranded itself years ago as Van Dyke Church, rebranded again, with its expanded vision to be "Bay Hope". I've been told our church has been considering this for many years. The idea was revived a few years ago but was tabled due to the confusion over the "Way Forward". After the February vote at General Conference to uphold and remain a global United Methodist Church, our leadership determined the time was right. This was a unified decision by separate votes in our Ministry and Administrative teams, over 30 people, our people, your friends and family. This was not done hastily, but thoughtfully, prayerfully, over many years.
Changing our name is not to be embarrassed, or meant to hide our United Methodist heritage. We're leaving the cross and the flame on the church. Our website will still clearly identify us as United Methodist. The whole name change is for two reasons: to lower any denominational barriers to new people thinking of coming to church, and to improve and simplify our communications efforts. It's opening the doors a little wider so that the "whosoever" in John 3:16 would feel welcome in our church. We'll be just as much "Methodist" next week as we are this week, maybe even more so. John Wesley was focused on one thing, saving souls. John the Baptist, when his disciples feared Jesus was getting more converts than "their church", said, "He must increase and I must decrease" (John 30:30). The apostle Paul was willing to risk life and limb that more people might hear the invitation of Christ. In 1 Corinthians 9:22 he said, "I have become all things to all people in ALL possible ways that I might save some. Paul was whipped, beaten, and imprisoned multiple times living out his call to reach as many as possible for the sake of Christ.
For some, changing the name is "small potatoes", for others, we've heard everything from not voting, to withholding tithes, to leaving the church. I grieve for those who are so angry to consider these measures. My heart aches. Contrary to some opinions leaders don't wake up wondering how we can upset somebody today. Leaders are constantly in prayer and evaluating the what, why, and how of what we are doing and what we can do better. If the name change is about us, we have no reason to change. We like it. We're comfortable with it. But if we're going to expand our focus on those who aren't here yet, who don't have a connection to God, what would we be willing to sacrifice? For Paul, there was nothing he wouldn't sacrifice. He gave his life for the One who gave His life for Him.
As pastor, I have prayed fervently about this decision, asking, "God is this what you want?" While I grieve for those who are hurting I believe whole heartedly in fulfilling the mission of Christ and believe that this is the right direction for our church. This is a watershed moment for our church and the opportunity to revitalize for the sake of others. Our first Cornerstone, "Connect", states that our desire is to "Help people connect with God through worship". This is an opportunity to strengthen our Christian witness, put our wants, our wills, aside, for the sake of Christ and the salvation of others.
Choosing a new name is a complicated process. With 172 submissions, all sure they had the "winning" name, numerically there's a good chance your "name" is not there. I prayerfully ask that you would support the years worth of prayer and discernment of our leadership, understand this as a growth opportunity, put your wants aside, and vote for the best option available. If you have not already voted online we will have paper ballots Sunday afternoon. Every vote counts. This is an exciting time in the life of our church and a reaffirmation of being on mission for Christ.
Below, I've added Beth Donaldson's FaceBook post of the three options and how they are supported by Scripture as well as some additional thoughts the team considered. This may be helpful in your own discernment process and help you wrap your mind around this important step in the life of our church:
Can it speak to our mission/vision?
Is it clear and easy to say, print, and describe?
Can we honor or utilize our history and/or location?
Is it inviting for someone from any background?
Is it outward focused and/or action oriented?
Is it too radical or edgy?
Is there heavy saturation in the region with similar names?
What website domains are available for promotional and communication purposes?
Can we utilize words often seen in Google searches for churches?
We imagined ushers and greeters saying "Good morning. Welcome to __________________ Church!"
We imagined people inviting their neighbors saying "I go to ____________________ Church."
Why Faith Bridge is a great name for a church:
"For there is one God, and one mediator (BRIDGE) between God and men, the man Christ Jesus; who gave himself a ransom for all." ~ I Timothy 2:5
-The goal is to remove barriers and build bridges to our community.
Why Spring Life is a great name for a church:
"Jesus answered "Everyone who drinks this water will be thirsty again; but whoever drinks from the water that I will give will never be thirsty again. The water that I give become in those who drink it a SPRING of water that bubbles up into eternal LIFE."
~ John 4:13-14
-This also honors our location as a double meaning.
Why Faith Spring is a great name for a church:
"...the FAITH and love that SPRING from the hope stored up for you in heaven and about which you have already heard in the true message of the gospel. . . ." Colossians 1:5
This also honors our location as a double meaning.
Please, please, please, not matter where you are, please join us this Sunday at 2 pm and be a part of what God is doing through the life of our church. And, may everything we do be done in love (even disagreements) for the sake of unity in Christ. "And, now, these three remain faith, hope and love, and the greatest of these is love." 1 Corinthians 13:13
God bless you all,
Pastor Greg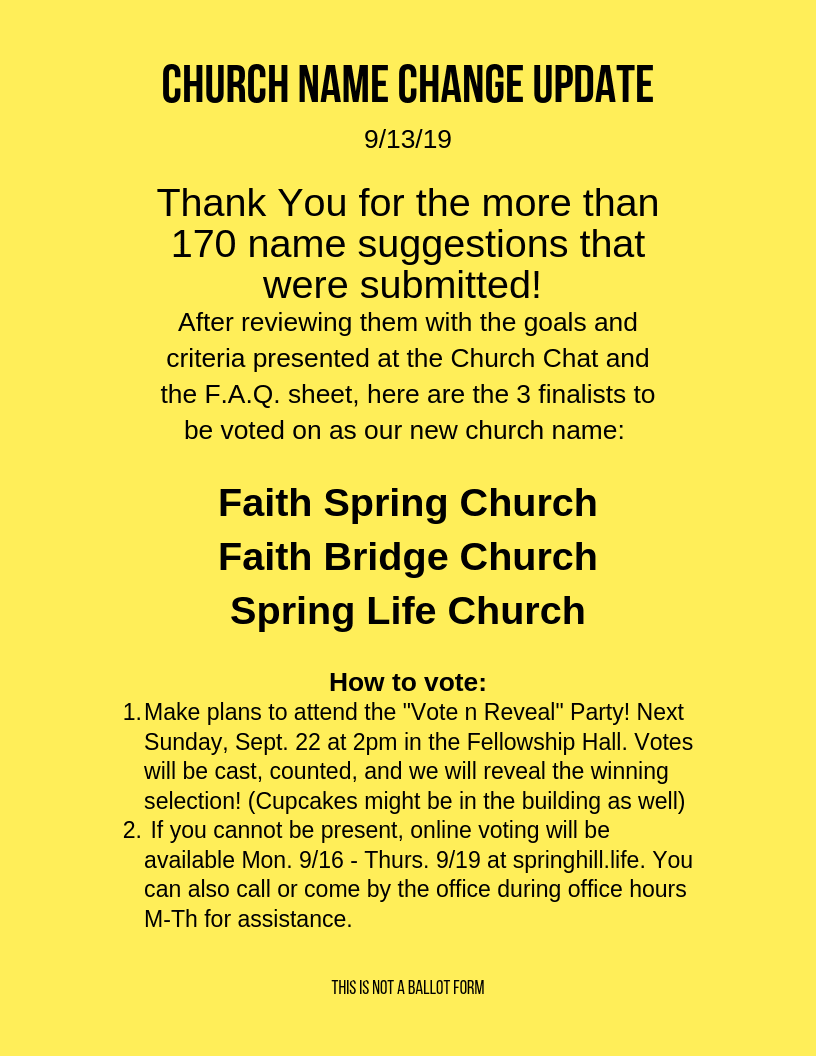 How to vote:
We hope that you had the chance to attend the Church Chat regarding this issue in which the original information was presented or reviewed the F.A.Q. sheet which you can find here. This online form is meant to act similar to an absentee ballot for local and national elections. Our best dream is to have the entire congregation participate in this voting process gathered together in one place. We will hold the vote on Sunday, Sept. 22 at 2pm in the Fellowship Hall. We know that several in this congregation travel often or embark in "Florida living" only seasonally. We have created this online voting form in hopes to allow as much of the congregation as possible to participate. Online voting will be available Mon. 9/16 - Thurs. 9/19. You can also call or come by the office during office hours M-Th for assistance. We're very excited about this next step in the church's future. Thanks for your vote and your prayers!