The Latest Info About In-Person Worship
*New Updates Effective 3/14/21
The ReLaunch Team takes the safety of ALL potential congregants very seriously. We're excited about the outlook of vaccine availability over the coming weeks. Based on local and national data and with consultation with viral experts, we a pleased to make a few adjustments in our safety protocols in regards to our gathered worship.
We still ask you to remain at home if you are not feeling well.
Masks will remain required while in the building and we ask you to continue to refrain from singing out loud for a little while longer.
We will continue to maintain safely distanced seating.
With increasing scientific data, we will no longer require temperature checks upon entry.
We will be increasing the occupancy capacity by opening seating in the balcony section.
We will begin to offer some printed materials for your convenience such as prayer and birthday lists, Upper Room devotionals, as well as bulletins.
We are working with our worship staff to develop the next phases of participation in musical art forms.
We will continue to evaluate additional changes in the coming weeks and months looking forward to when we can safely move into a full Phase 4 ReLaunch!
We continue with Phase 2 into 2021! Here's what you need to know...
Sundays at 10:30am, we will host 1 in-person service which will be streamed live online and archived On-Demand.
As we continue to offer in-person worship, our goal is to create safe, meaningful worship experiences for those who are ready to gather again. Below is a breakdown of some of the guidelines that are put in place in hopes to achieve this. At this time, we are taking a fairly slow approach with concern for ALL including the staff and volunteers. There is also a FAQ section to help answer questions you may have along the way.
**Important Notes:
* A Pre-registration will be required for those ready to attend WHO ARE NOT already scheduled to volunteer or serve that day. Registrations will become available on Tuesdays at 8 am for the upcoming weekend. If you've been experiencing any symptoms of illness, we encourage you to participate in the service online from home while you continue to get well and feel better.
* If you are concerned about your ability to wear a mask for the duration of a worship service, please consider participating in the service online from home as it may not be the right conditions yet for you to join in gathered worship.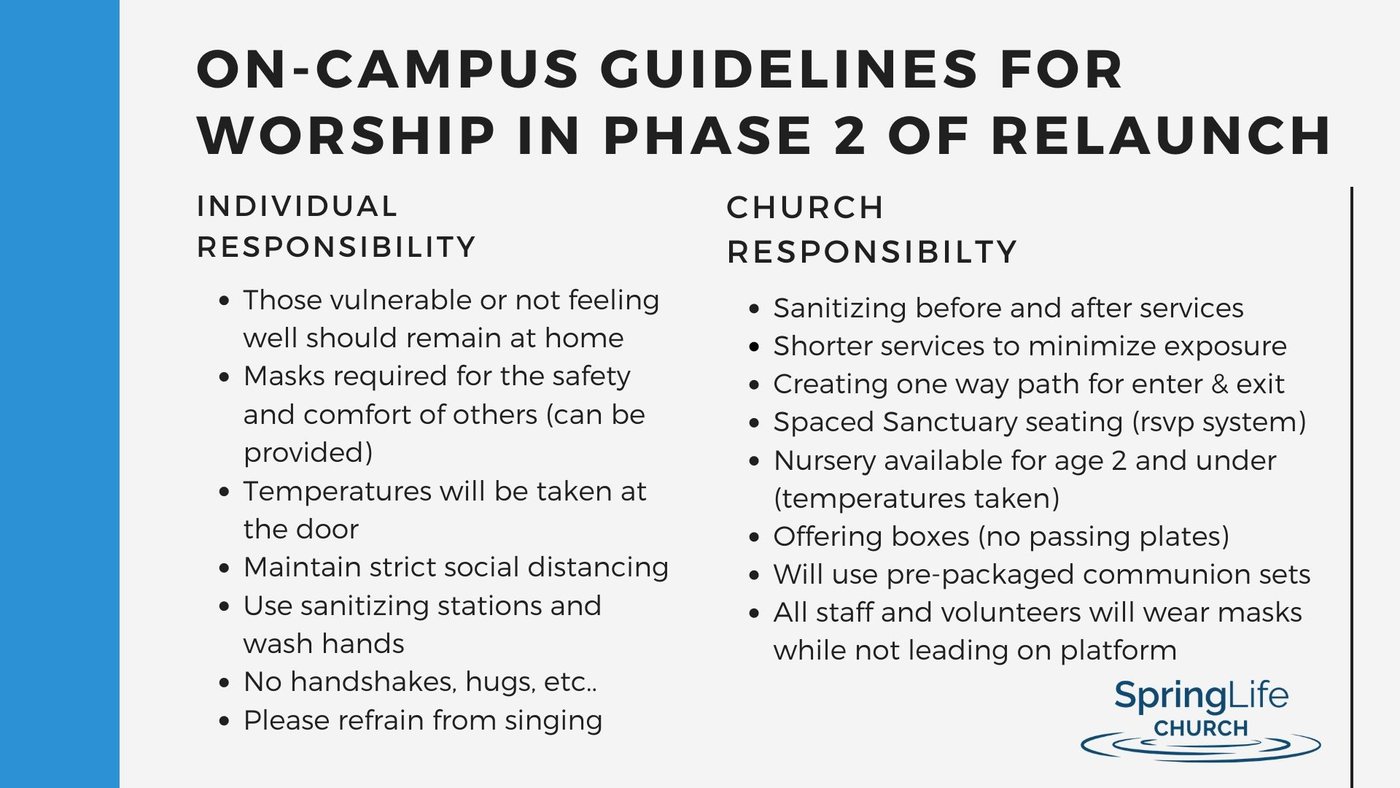 FAQ's
What are the services like?
Initially we are offering 1 service on Sunday mornings at 10:30 am in the Sanctuary, which we offer live-streaming and archived for your viewing. We have held in-person services since October 2020. Our serving teams are adjusting to revised procedures and it may take a few weeks for us all to shake the dust off. If we're honest, we're excited and nervous. We ask for your prayers and patience.
Do I Have to Register?
Yes, In order to maintain safe, spacious distancing in the Sanctuary, there is a seating capacity. This also allows for tracking should a medical incident occur.
Why do I have to wear a mask?
Many will not feel comfortable attending if this is not in place. It's a protocol that allows more of us to join in community together again while considering the concerns of our whole church family.
This is currently a guideline within our denomination.
Do I have my temperature taken?
We are into Phase 2B and will no longer require temperature checks upon entry due to increased scientific data.
What about my kids?
Guests will be seated as a family unit. There will be a nursery for children 2 and under because CDC guidelines state that they can't wear a mask correctly plus we want to offer you a chance to worship more freely while your very young children are taken care of. There will not be regular morning NextGen programming as of yet, but you can find their online programming here.
Will there be coffee and donuts?
Not initially. We encourage you to enjoy your favorite breakfast from the comfort of your house or car.
Can I still watch online?
Absolutely, we are committed to serving our online congregation and have been making plans for enhancements along the way.
When and where do I register?
Text the word RSVP to the church phone number, 352-683-2600, tap the link that is sent to register thru Church Teams. We will be sending reminders periodically. Registrations will become available on Tuesdays at 8 am and thereafter until seating is maxed for the upcoming weekend. RSVP will be on this page (see pre register button), the Central Hub, and the online worship page. If someone is not online or can't text to make a registration, they can call the church office after Tuesday.
Can my Sunday School Class meet?
Currently, It is not time for our Sunday school classes to be able to gather on Sunday mornings at the church yet. There are capacity limits to the rooms and other logistics taking place during that time. We hope for a change in the coming weeks. We still encourage online and telephone connections.
Can my Bible Study or serving team meet at the church during the week?
There are some opportunities for groups between 6-10 people to meet on campus during the week, with protocols in place and as scheduling allows. Please email here for more details if you're interested.
Gentle Reminder:
Kindness is the best policy!
Let's all do our part so we can move on to Phase 3 of ReLaunching SpringLIfe!
Ready to Register?
Registration opens each week on Tuesday mornings at 8am for the following weekend.
You can also text RSVP to the church phone # 352-683-2600 and it may pre-fill your info.
The Full ReLaunch Plan