Here's What's Happening in the Life of the Church
In-Person Worship! We've setup a separate page to address concerns of Covid-19 and In-Person Worship.
Just TEXT the word "check" to church phone number to let us know you are 'viewing' Worship services.
It's so easy! Some of us are attending in person but others still feel unsafe doing so.
After you watched the weekly message, use your smart phone to send a text message to the church phone # 352-683-2600. Text the word "CHECK" and send along, instantly you will be sent a link and if you follow that link you can check in yourself and any others in your household as having viewed the weekly message. This helps us stay connected to you and know that you are actively participating in the life of the church. Go ahead and save the number as a contact in your phone as there will be additional features available as well.
Please consider serving the Lord at your church, see link below!
Prayer and Healing Ministry
The Intercessory Prayer and Healing service meets in the Choir Room on Tuesdays at 9 am. You are invited to join this small group of faithful Prayer Warriors who gather for songs, Intercessory prayer support and communion each week. They faithfully intercede on your behalf with petitions to the Lord.
We also have 64 Prayer Partners who receive weekly email updates for prayer requests. These requests come in by phone to the office, but mostly by prayer cards on the website. Phone calls and weekly communications with the church family is vitally important for this ministry and results in finding needs for prayer that way as well. We celebrate our Praises and answer to prayer also.
Prayer requests, updates and praises are shared each week as the Prayer list is updated and sent to all in the Ministry weekly.
Books of the Bible on video
We offer a number of Old and New Testament Books of the Bible on our website. If you enjoy Psalms in particular, you can go directly to listening to the Psalms. If you have a preference for the Gospels - Matthew, Mark, Luke or John - we have them available also, as well as many more Books of the Bible. Each one lovingly presented to you for your listening and viewing pleasure. It is set up so you can easily choose to watch any of the Books and pick up at any chapter recorded by our very own SpringLife Church family! If you'd like be a reader participant (we still have many OT Books to record), please contact the office.
Take-Out Tuesdays are here.
FREE Tuesday Dinners is a take-out style meal service each week. Pick-ups start at 5 pm. It is very important we use our resources wisely and an accurate head-count is so very helpful to reach that goal. Reservations can be placed up to Noon on Tuesday or when we have reached our limit of 160 dinners, whichever comes first. Please reserve your meal(s) by texting the word "takeout" to the church phone #352-683-2600 or click the link below:
NextGen Ministries
The NextGen is "planting many kinds of seeds" and "tilling the soil" in preparation for our growth potential. Leviticus 19:23-25.
I am currently sending teams to check out various retreat venues for moms and dads for the purpose of connection (to God and to others). After the teams come back with their experiences, I will evaluate whether or not to pursue this particular retreat as a means of connection.
The NextGen teens are preparing to go to a camp that has a history of making new disciples of Christ. In the camp, each church/cabin leaves space for a camp sponsored foster kid in which we are to take under our wing and mentor throughout the week. This makes our camp experience a sort of mission trip experience as well.
The NextGen Program team is being developed and trained. This will be a collaborative team that will help create and implement content and design for weekly programming.
The NextGen Program team is currently working toward a "soft launch" with our NextGen kids this June. The theme this summer is "Press Play" and is about building confidence in faith.
The NextGen Events team is working on Summer events for our NextGen kids.
The NextGen teens are looking to do a service project along the coast at the end of the month. This project is being sponsored by the Sea Scouts and is presented to us by Brenden Young - one of our teens.
Further, the NextGen ministries are looking for an August launch. This launch will start the cycle of our yearly strategy - yearly scope (Fall to Summer); quarterly discipleship themes; monthly -teachings, events, family experiences (camps, retreats, conferences), and more. . Bryan Quinn
Our Food Pantry is our September Mission of the Month
Our Food Pantry is supported solely by donations. We receive food from USDA, Feeding Tampa Bay, Publix, Target and Dollar General. We are grateful to have a roster of close to 100 dedicated volunteers that serve with registration, bread pick-ups, shopping, bagging and cart helpers, and more.
Your Food Pantry has continued to remain open, even during this entire Covid experience. Since March of 2020 we adapted by adding additional health and safety protcols to offer what is currently our 'standard' drive-through service. The need of our community continues to be great. We assist new families every week in addition to many regulars that come each month.
We are grateful for your prayers, blessings and donations. You are a vital part of our being able to stay open to serve those in need. Your monetary donations are especially welcome as we are able to purchase items in bulk at greater discounts than when you shop for us. We thank each of you and may God continue to bless this ministry.
A Word from the Chairperson: The Mission Ministry is looking for volunteers to join the Team. Do you have a heart for helping others? Perhaps you are passionate about a community outreach that you know could use extra funds with their worthy assistance to those in need. Our goal is to help fund raise for the M.O.M.'s, many of which are locally established charities. Call the office for more information about how you can help.
Men's Bible Studies...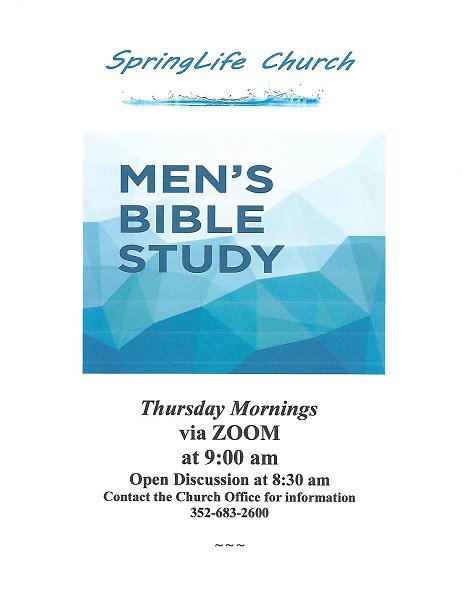 The men's Thursday Morning Bible Study is returning to Zoom only for the time being. The group connects at 8:30 a.m. with the study beginning at 9 a.m. The current study is the Book of James. Contact Andrew Schwartz 703-581-7144 for the zoom link to be included in the weekly study.
There is also a small UMM Tuesday Morning 8:30 a.m. "Apologetics" Bible study group that is once again meeting in the church library. The Bible study is on a book called "Case for A Creator" by author Lee Strobel. You are welcome to attend this study.
You do not need to be a member of the church to join either of these interactive studies to read and hear God's Word. Just have a love for God!
Ministry Updates - September, 2021
WHAT IS KAIROS?
Kairos - a Greek word meaning God's special time—is an ecumenical Christian ministry that addresses the spiritual needs of incarcerated men, women, youth and their families. Members of the Kairos Team will meet here at SpringLife each morning from Sept 30—Oct 3 as they gather in prayer and preparation to bring the Word of God to the local Ladies prison facility.
Kairos is not only in the US, but countries like South Africa, Honduras, Costa Rica, Peru and many others. The Kairos program is run basically the same for both the men's and women's prison. The three and a half day weekend which is held twice a year consists of a team of approximately 45 volunteers and 36 inmates. There are 11 talks shared by the volunteers throughout the weekend, testimonies, poster making, singing, talking and praying. During the weekend the inmates learn of God the Father, Jesus His Son and the Holy Spirit. Many accept Christ for the first time, others recommit to Jesus.
Prison is a hard place to try to turn one's life around and live better. Therefore, Kairos goes in one Saturday every month for 3 hours to welcome not only the programs graduates, but any inmate that wants to attend and worship, talk, pray with, and encourage. It is such a blessing to be a part of a person's decision to accept Christ and actually see a physical change in their countenance. Families are reunited and some of the children of the incarcerated are set free from following in their parents footsteps. In a study of inmates released from Florida prisons, the recidivism rate was reduced by half for Kairos graduates. Kairos is such a blessing for the inmates and the team members as well. If you would like any more information on this ministry, please contact the office.
Dance Fit:
Hey DanceFitters.
As we've said from the time we restarted DanceFit back in April, we are living in unprecedented times with a fluid situation that would probably require constant monitoring and flexibility. We appreciate everyone's patience as we have tried to navigate all of this and make the best decisions we can, for the majority of the group, with the information that we have available. And we really appreciate those of you who have come along for the ride and participated in class with us. It is always so much fun dancing with you!
That being said, after much consideration, we have decided to cancel DanceFit classes for the time being again. There were several factors that weighed into this decision. A few of the more prominent factors are...
-Increase in COVID cases, even among the vaccinated
-Hernando County being classified as a community with a high level of transmission of COVID
-The CDC's latest guidance recommending masks again be worn indoors by all, including the vaccinated
-The unknown prognosis of Beth's knee affecting her ability to help lead
-School starting back for leadership's kids, as well as for Bridget as it pertains to her job
We will continue to monitor things. But, we would like to wait and restart DanceFit when we can be somewhat sure that we can provide a more consistent and reliable experience for all. ~ Beth Coldwell
Request for Prayer Shawls...
The Prayer Shawls Ministry has a continual need for Prayer Shawls—adult size approx. 26" wide by 60" long—the best size for wrapping around one's shoulders. We have just a few adult size on reserve. We accept new and clean donations crocheted, knitted and even thin quilted shawls. (What we do NOT need are lap robes, baby shawls, wraps, and odd sizes.) You can bring your 26" X 60" Prayer Shawls to the office for the Pastor to bless them. If you would like to make shawls but are in need of yarn, we can help. Call the office for contact information.
Music Ministry
Chancel Choir practice has resumed for members who have been fully vaccinated - that includes about 30-35 positions.
We are sad to lose Ashley McCall,our accompanist and friend. I have been given the green light to take over her position as the Leader of the Praise Band and will be incorporating the music and Chancel Choir together more as time progresses this summer with the one church service at 10:30 am. ~ David Pletincks
L.I.F.T. Ladies in Faith Together
The leadership will be changing in September when Judy Kalee will be moving up north by her family. Jackie Stout, current V.P. , will take over for the time being. We are making plans on how and when to resume our circle meetings as well the main group and craft group. ~Judy Kalee, President
L.I.F.T. will resume their monthly meetings open to all members and interested ladies on Monday, October 11, 2021. We start off at 9:30 am for coffee and goodies in Fellowship Hall. Opening prayer for the meeting at 10 am. and an anticipated dismissal around 11-11:30. Please mark your calendars and plan to attend.
The United Methodist Men UMM update
A small contingent of men continue to maintain the campus grounds - now in full weekly summer time swing. Always looking for new ( and younger) men & women to volunteer to maintain the church grounds with us. We gather at 7 am Friday mornings in the back parking lot by the shed building. ~Andrew Schwartz, UMM President
The Library
Software version upgrades have made more detailed reporting possible. Reports such as:
Library circulation (check outs) since 09-2020 to 08-2021
New titles added since 09-2020. These are new or donated items.
Donations are reviewed for topic and content. Strong political topics, duplicates, non-Christian, secular items are weeded out. Duplicates are offered on the "complimentary" shelf for a limited time before being donated elsewhere.
Trustees have notified me that the library air conditioning will be repaired soon. This will provide availability for small group meetings again. Also, volunteers have expressed interest in resuming their support roles again. ~Lynn Logue
Take-Out Tuesday report
For the month of August we have served 786 meals. We thank all the volunteers who made this possible. We are also celebrating our two food warmers we have received. You can't even imagine how much the food warmers have helped being able to prepare 170 warm meals each week.
The soup kitchen looks forward to and prays for the future when we will once again be able to serve meals in the fellowship hall and have some people coming into fellowship with Christians as well as having a good meal. Please pray for this to happen and for help cooking on Tuesdays for the neighborhood.
Congregational Care Report- Monthly Report
Congregational Care Report- September 2021
Our Lord blesses and challenges us in this ministry, so we continue to rely on Him to guide us. We trust Him that we are prayerfully matching those who need care with those who feel called to be companions. Praise His faithfulness.
Care Companions
We currently have 13 wonderful Care Companions.
Chuck West is our newest Care Companion. We have oriented him and matched him with one of our congregational members. Thank you, Chuck, for volunteering with us.
Bob Logue has "retired" from our ministry because of his commitment to two (2) other ministries within our church. He is involved in the Grief ministry and Food Pantry, among others. We appreciate the time you were with us, Bob.
Kevin Herrick's congregational member is moving out of state with one of his children, so Kevin is praying about where he will best use his spiritual gifts. We thank Kevin and Mary, who have been faithful Care Companions, and we hope they will continue to minister to congregational members.
There are also some "behind the scenes" caregivers who are not official yet they minister to several congregational members. Thanks to Andrew Schwartz, Marie Hawkey, and Beth Donaldson. I am certain there are others I don't know about.
Care Receivers
We have received requests from five (5) individuals for Care Companions in the past two (2) weeks. We have matched up one person with a current Care Companion and are praying for the right companions for the next four (4).
Collaboration with Other Ministries
We are grateful for the LIFT prayer shawls, the Intercessory Prayer group, and Tuesday Night Takeout dinners. While we have not had many of our Care Receivers receive the Tuesday dinners, we are grateful when the team leaves frozen meals in our casserole freezer.
Yours in Christ, ~Cheryl Miller
Kairos Prison Ministry
I am sitting here looking at the grandeur of the mountains in Colorado. Only God can create a masterpiece like these! Anyway, Kairos will be going forward with the 3 and a half day weekend in October. Exciting for all those taking part and for those of us that remember how blessed we were when we served on one or numerous teams. Nothing else to report, except prayers are always welcome, both for the preparation time and the weekend.
We are still allowed our every third Saturday for gathering in the Chapel. The residents are always so grateful for our dedication to showcontinue to do, however, is pray for everyone on the HCI compound and the volunteers within the Kairos community. Thank God we do not need a specific place or time to pray. We can raise our praises, requests and thanks to Him at any time or place! ~ Blessings, Nancy McClellan
Next Gen Ministry
The NextGen Ministry has been busy, and we are on track with my 5 year plan based on Leviticus 19:23-25
Year one: Survey the land
Year 2-3: "Planting seeds of many kinds"
Year 4: Relentless Discipleship and Continual Pruning
Year 5: The year of Abundance
Currently for the NextGen Ministry:
*Kids Church: The volunteers and I have been taking the idea of Kids Church and Plus It with more theming, decor, and more intentional Small Group Leader interactions. The win has always been for kids to be excited to be at church, the extra win is for kids to recite what they learned along with their memory verse in the car on their way home - we believe the theming will help with this. We are also sending out postcards at the beginning of every month to introduce the new month's theme along with a note to the kids from their small group leader.
*Youth Group: We are in the middle of a transitional moment. We are looking at options for a possible new time and/or day to meet as a youth group. The purpose is to give a better opportunity to invite new people to the group while navigating scheduling conflicts with current group participants.
I am also developing a student leadership pathway for those who are 10th grade and older. These students with help provide ideas and theming for youth group nights and events.
*Parents: Nancy and I are creating a time for parent aged adults to meet in small groups or Grow Groups. These Grow Groups are going to meet on Tuesdays (possibly?) and the subject matter for these GGs is TBA. Childcare will be provided for 5th grade and lower.
*NEEDs: Volunteers are always welcome and always a need. I am kicking around the idea of a "volunteer training day" in September. The volunteers needed are SGLs (Small Group Leaders) for all ages including the parent Grow Groups, Teens, and Kids Church; bus drivers; tech managers; photographers/videographers; check-in/check-out personnel; and "adoptive" prayer partners. ~ Bryan Quinn
Life-Line Screening September 28th
Life Line Screening, the nation's leading provider of preventive health screenings, will offer affordable, non-invasive and painless health screenings in Building A, the Light House, on Tuesday, September 28, 2021.
A package of five screenings to identify risk for stroke, heart disease and other chronic conditions will be offered:
Carotid artery ultrasound to identify plaque buildup in the carotid arteries, a major risk factor for stroke
Abdominal aortic aneurysm ultrasound to identify presence of an enlargement in the largest blood vessel in the body
An EKG to identify the presence of atrial fibrillation, which increases the risk for stroke
Ultrasound of the lower legs to look for plaque buildup known as peripheral artery disease
Ultrasound of the shin bone to identify risk for osteoporosis
These 5 vital screenings are offered for only $149 and take 60-90 minutes to complete. If you register today, you will receive a $10 discount.
Register by calling toll free 1-888-653-6441 or text the word "circle" to 797979.
Ask the Administrator
9/10/21
First, thanks for the many prayers for our family during our recent illness. We are grateful we were minimally impacted, relatively speaking. There continue to be so many within our church, schools, and community who are navigating this pandemic.
The Trustees continue to facilitate infrastructure upgrades and replacements as they are occurring. Recently, a fuse blew in an older model panel box in our office building which impacted one of the main air conditioners. We are going to relocate the AC unit over with the other units and utilize a different power source, but looking at a replacement of the older fuse panel as well. My thanks to their efforts in evaluation of solutions.
Summer is essentially over and ministry leaders are trying to dream of re-establishing or offering new ministries, but this most recent viral surge is sure making decisions about fall opportunities quite tough right now.
7/29/21
We've gathering some or our key statistics for the first half of 2021 and wanted to share a few with you.
In-person attendance continued to increase as we went from spring into summer.
30-40% of those who check-in their attendance are viewing from home.
About 30% of our giving comes through on-line donations now.
Here's a financial update through June 2021:
Anticipated Expenses: $509,911
Operating Giving: $449,127
Actual Expenses: $448,112
Mortgage Giving:$41,960
Mortgage Expenses: $54,342