Here's What's Happening in the Life of the Church
In-Person Worship! We've setup a separate page to address concerns of Covid-19 and In-Person Worship.
Just TEXT the word "check" to church phone number to let us know you are 'viewing' Worship services.
It's so easy! Some of us are attending in person but others still feel unsafe doing so.
After you watched the weekly message, use your smart phone to send a text message to the church phone # 352-683-2600. Text the word "CHECK" and send along, instantly you will be sent a link and if you follow that link you can check in yourself and any others in your household as having viewed the weekly message. This helps us stay connected to you and know that you are actively participating in the life of the church. Go ahead and save the number as a contact in your phone as there will be additional features available as well.
Woman's Groups - for all woman who are looking for that connection within the church, see below
Mary Martha Circle, Christmas Lunch at Timber Pines Club House. Tuesday, December 7 at 12 noon. You are invited to attend but a head count is required. Please let us know you will be attending by contacting Sharon Swierenga by Dec. 5th. This is not our usual date and time of meeting so please make note. We will be ordering off the menu.
and New Walk...Friday December 17 at 7:00 pm in Building A. New Walk Women's Group provides evening opportunities bringing intergenerational women together to build faith and relationships. Each month features a different focused theme. If you are new to the church, your faith or just looking for an opportunity to connect, you are invited.
Break out those ugly Christmas sweaters. Our next opportunity to get together is December 17 at 7:00pm. Our theme is "Jolly Jingle Game Night." Following a brief devotion and time of prayer we will engage in fun activities such as "minute to win it" games, a little Christmas Trivia, and judging of the Ugliest Christmas Sweater.
Prizes will be awarded. Water and snacks provided.
Ladies in Faith will host a Grandfamilies Lunch on December 10- CANCELLED
Please consider serving the Lord at your church, see link below!
Prayer and Healing Ministry
The Intercessory Prayer and Healing service meets in the Choir Room on Tuesdays at 9 am. You are invited to join this small group of faithful Prayer Warriors who gather for songs, Intercessory prayer support and communion each week. They faithfully intercede on your behalf with petitions to the Lord.
We also have 64 Prayer Partners who receive weekly email updates for prayer requests. These requests come in by phone to the office, but mostly by prayer cards on the website. Phone calls and weekly communications with the church family is vitally important for this ministry and results in finding needs for prayer that way as well. We celebrate our Praises and answer to prayer also.
Prayer requests, updates and praises are shared each week as the Prayer list is updated and sent to all in the Ministry weekly.
Books of the Bible on video
We offer a number of Old and New Testament Books of the Bible on our website. It is set up so you can choose which Book (even which chapters/verses of that book), you would like to view. This is great for those with limited sight or have difficulty reading. Each one lovingly recorded for your listening and viewing pleasure by members of SpringLife Church.
Many of the Old Testament books have 'names' of people and cities that only select few readers prefer to tackle. If you are one of them and would like to participant as a reader, please contact Joanne in the office.
Take-Out Tuesdays are here.
FREE Tuesday Dinners is a take-out style meal service each week. Pick-ups start at 5 pm. It is very important we use our resources wisely and an accurate head-count is so very helpful to reach that goal. Reservations can be placed up on Thursdays through noon on Tuesday or when we have reached our limit of 160 dinners, whichever comes first. Please reserve your meal(s) by texting the word "takeout" to the church phone #352-683-2600 or click the link below:
NextGen Ministries
The NextGen is "planting many kinds of seeds" and "tilling the soil" in preparation for our growth potential. Leviticus 19:23-25.
The NextGen Program team is being developed and trained. This will be a collaborative team that will help create and implement content and design for weekly programming.
NextGen teens are looking to do a service project along the coast at the end of the month. This project is being sponsored by the Sea Scouts and is presented to us by Brenden Young - one of our teens.
Next Gen Ministry to kids, Youth and Families, Bryan Quinn, leader email is nextgen@springlife.church
Tuesday Dinners is our December M.O.M.
Our goal is to feed a healthy meal and encourage families to eat together. We put a prayer request card in the bags with an invitation for men to join a Bible study, along with a menu for the next month. We pray that they see God's love through the service and food they receive from our church.
This ministry is operated strictly by donation and volunteers such as Jan Griffioen who is the current Leader. In 2011, a former member, Sam Foster was given a $500 gift to start this ministry as a Soup Kitchen. She continued to operate with many local business donations and we have been blessed ever since. The Church supports this mission with its resources of building use and of course many volunteers to do the work. This meal time became a Fellowship hour as much as a need for a FREE meal. We make meals for low income people and those who live alone. They make a reservation and come to church to pick up a Take Out meal from behind the Fellowship Hall between 5 & 6 pm on Tuesday evenings. We serve single people and families with children and anyone who needs a healthy meal.
Initially, when we served in the Fellowship Hall, there was an average of up to 70 people a week, now it's up to 700 meals a month. Our expenses have increased because the number of people we serve have more than doubled. Thank you for donating to this outreach Ministry.
Men's Bible Studies...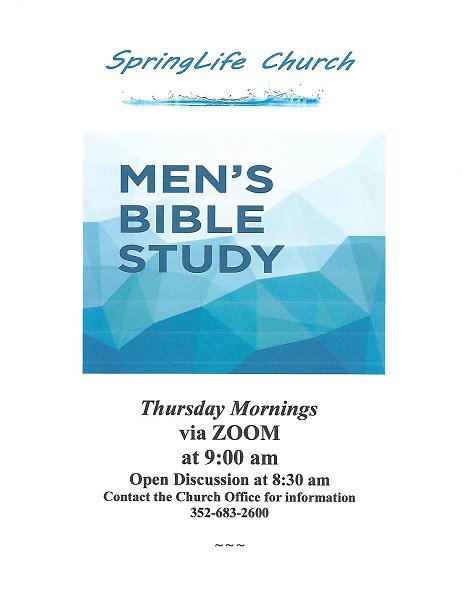 The men's Thursday Morning Bible Study is returning to Zoom only for the time being. The group connects at 8:30 a.m. with the study beginning at 9 a.m. We are currently studying thru 1 & 2 Peter. Contact Andrew Schwartz 703-581-7144 for the zoom link to be included in the weekly study.
Tuesday Morning 8:30 a.m. "Apologetics" Bible study group that is once again meeting in the church library. We start a new study with a book called "Case for Heaven" by author Lee Strobel. You are welcome to attend this study.
You do not need to be a member of the church to join either of these interactive studies to read and hear God's Word. Just have a love for God!
Ministry Updates - December, 2021
Prayer Shawl Ministry
We met last month with several ladies attending. Received several new shawls and along with some additional ones that were left at the office and all were blessed by the pastor. We will not meet again till January, after the holidays.
L.I.F.T. Ladies in Faith Together
The L.I.F.T. board had decided not to meet until January, starting with a fresh start for the Ministry after the Covid shutdown.
In the meantime, I met with Bryan to discuss an idea he had about Grandparents. I shared the results of that with a couple other board members, and we decided to have a "Grandmothers luncheon".
This is planned for December 10th. Bryan and Lorenda helped us get the announcement out. See above for the sign up.
Take-Out Tuesday report
For the month of October we served 636 meals. And we couldn't have done it without all our volunteers, especially the cooks! Speaking of cooks...we are in need of chef(s) to join our rotating schedule. If you are interested, please contact the church office. Please keep the Tuesday Dinner Ministry lifted in prayer. We prepare and serve 160-170 meals each week, and yet even with this great number, many seeking to sign up are unable to because our reservation list fills up so quickly.
The Library
Our Church Library has many One-year Devotionals to choose from. You can borrow a one-year Bible or Devotional for the entire year! We have several versions and formats, regular and large print, also CD and DVD versions! Stop by and check one out for 2022!
Food Pantry
Your pantry is now receiving our products from Farm Share out of Jacksonville vs Port Richey. Our clients are now receiving more varied and an increased number of products due to this change. These products are now delivered to the pantry on site and on Friday's. All our volunteers are following Covid guidelines as directed by Feeding Tampa Bay. Your pantry never closed because of the that illness as others serving our community did. Many volunteers follow those guidelines in their personal lives as they have lost friends who choose to ignore them.
Music Ministry
Chancel Choir practice has resumed for members who have been fully vaccinated - that includes about 30-35 positions.
We are seeking a church accompanist. Anyone interested in being considered for the paid position, please contact the church office.
I have been given the green light to take over the position as the Leader of the Praise Band and will be incorporating the music and Chancel Choir together more as time progresses this summer and fall with the one church service at 10:30 am. ~ David Pletincks
The United Methodist Men "behind the scenes" UMM member activities:
New sod on the west side of the Sanctuary is growing in nicely. The sod was needed after those grass areas died. Electric cables that fed the sprinkler controller in that zone were severed during the new sign installation. After several attempts to find where the cable was severed, Dick Christensen located it and had a professional repair it. That area is now back to %100.
There's always a constant "battle" to locate and repair any of the several dozen sprinkler heads around the campus and the Friday Work Crew is on top of that too. Just this week three of those non-working heads were repaired.
Another UMM Friday Work crew project has been to update the planter beds adjacent to the walkway outside the main entrance of the Sanctuary. Seventeen new Juniper plants were planted and replaced some unsightly shrubs. More of the same will be done on the other side of that walkway in the not too distant future.
All of this work is done in an effort to keep God's house, our house, in beautiful shape.~Andrew Schwartz, UMM President
Congregational Care Report- Monthly Report
It is a privilege to serve beside Lorenda Rodriguez and the Care Companions to bring some joy into the lives of our congregational members who are seeking companionship. The presence of the Holy Spirit gives us hope and peace as we minister to each other.
Care Companions
Please pray for one of our newest Care Companions, Pat Masters, who has been diagnosed with breast cancer for the second time. Pat's husband currently does not drive, so we are creating a carpool of SpringLife members who live in Wellington at Seven Hills to provide transportation for her when she knows her treatment schedule.
We have another Care Companion, whose name I don't have permission to release, who needs our prayers. Her husband has been ill, unable to walk, and now is showing signs of dementia. She looks after two (2) of our Care Receivers, so her plate is full.
If you know someone who is kind and compassionate, would you kindly forward his or her name to Lorenda or myself to become a Care Companion?
Care Receivers
We have matched up three (3) Care Receivers with Care Companions, so we have two (2) more to match. This number changes often and Lorenda receives many calls from people asking for our services. Thank you for praying that we continue to meet the needs of our homebound congregational members.
Casserole Ministry is Ready to Expand
My original vision for this ministry was to provide this service to anyone who needs a meal. I think we are ready to take baby steps in that direction. The casseroles in the freezer can feed 1-2 people. If there is someone you know in your area of ministry who you feel could benefit by having a frozen casserole meal, please let me know via phone or text. I will give you instructions on where they are stored and what to do in order to get one. 402-681-3769-call or text Cheryl
Yours in Christ, ~Cheryl Miller
Next Gen Ministry
The NextGen Ministry has been busy, and we are on track with my 5 year plan based on Leviticus 19:23-25
Year one: Survey the land
Year 2-3: "Planting seeds of many kinds"
Year 4: Relentless Discipleship and Continual Pruning
Year 5: The year of Abundance
Currently for the NextGen Ministry:
Kids Church: we have seen more kids show up to Kids Church recently with the last Sunday having nearly 30 people altogether. We are now developing quarterly events for all kids within Kids Church as well as separate events for the various Kids Small Groups. Right now, we have a comfortable amount of volunteers, however with more volunteers, we will be able to be more effective in the future of this ministry at the rate we are growing.
Youth: We have officially changed the time we meet from Sunday's at 3-4pm to Sundays at 5-7pm. This switch has been accepted well and we will soon be developing a Student Leadership Team. This Team will focus on Commitments to Christ and his Church through acts of service as well as developing ways in which to grow our group. We are starting to hit the cap of effectiveness until I can recruit volunteers for this ministry.~ Bryan Quinn
Ask the Administrator, Bob Coldwell
12/1/21
Here's a financial update through Oct. 2021:
Anticipated Expenses: $841,213
Operating Giving: $716,267
Actual Expenses: $732,860
Mortgage Giving:$66,001
Mortgage Expenses: $90,570
We had a tremendous outpouring from the community in a partnership with the JoyFM with their Tshirts for Turkeys program. Over $6,000 in tunds or turkeys were donated to help with our Food Pantry Thanksgiving Dinners.
We look forward to a new Air Conditioning Line Chase being built for the East side of the Sanctuary in the coming months.