Here's What's Happening in the Life of the Church
In-Person Worship! We've setup a separate page to address concerns of Covid-19 and In-Person Worship.
Just TEXT the word "check" to church phone number to let us know you are 'viewing' Worship services.
It's so easy! Some of us are attending in person but others still feel unsafe doing so.
After you watched the weekly message, use your smart phone to send a text message to the church phone # 352-683-2600. Text the word "CHECK" and send along, instantly you will be sent a link and if you follow that link you can check in yourself and any others in your household as having viewed the weekly message. This helps us stay connected to you and know that you are actively participating in the life of the church. Go ahead and save the number as a contact in your phone as there will be additional features available as well.
This Sunday, Oct 17th is Laity Sunday
Hello Church Family! This Sunday we recognize and celebrate Laity Sunday. Our church is Blessed with many non-clergy volunteers who give of themselves to help others in their daily lives and to help bring more people to Christ! We will recognize and thank all of these wonderful folks and talk more about Laity Sunday. My message is entitled "Mayo Light Shine for Jesus!" I will elaborate on the terminology this Sunday and we will discuss the many ways in which we can shine OUR Christian light for Jesus and bring others to know our Lord and Savior, Jesus Christ. This, in turn, will help us to deepen OUR relationship with HIM!
In Matthew Chapter 5, verses 14-16, we are told, "You are the light of the world. A town built on a hill cannot be hidden. Neither do people light a lamp and put it under a bowl. Instead they put it on its stand, and it gives light to everyone in the house. In the same way, let your light shine before others, that they may see your good deeds and glorify your Father in heaven."
How does your light shine before others? Are your batteries strong or do you need a recharge? I know that I sometimes need a recharge and we will talk about how to go about doing just that! I am so grateful to be a part of a loving congregation at SpringLife, and I look forward to seeing all of you soon! May God Bless You All!
~Lay Leader Phil Doucet.
October is Pastor Appreciation Month
Ways to Honor Your Pastor for Clergy Appreciation Month by Janet Earls
Some pastors have shared with me that, like teachers, they receive so many gifts from people. However, the gifts are not always given with the forethought of how many of those items the pastor has received. How many mugs or signs with sayings have they received over the decades of ministry? One retiring pastor set out all the tchotchkes she had received over the years (that she could no longer house) and offered people to come by and take what they want – allowing them to bless others. The point is to be more cognizant of what would be helpful for the pastor and their family. Remember people serving in pastor roles that may not be ordained (youth leaders, discipleship, care ministry).
There are no cost, low cost, and generous ways to thank your pastor(s).
No cost:
Card of thanks with specific words of how you appreciate your pastor
Jar of uplifting inspirations or jokes – funny "dad jokes"
Share your season tickets for sports or theatre or music
Offer a vacation spot if you have one or have points to share from loyalty programs
Declare a day of volunteering to honor him/her and give back all the hours of service that were done for others
A group to do yardwork at the parsonage (with permission and what they request)
Fill-in-the-blank insert for the bulletin – why we appreciate our pastor
Join the "Unity" Bible study
Low cost:
A themed candy bar and note that says something clever – Ex: Snickers bar with a note saying – we Snicker when you say ________ during service. Or thank you for sharing that Jesus is our Lifesaver! Thank you to the sweetest pastor ever! We love you to PIECES! (Reese's Pieces). There are even printable candy wrappers to customize with your own wrapper for your pastor
Gift card for books or for their hobby or sport (Create an Amazon or other store wish list to be shared with others)
Gift card for dinner, movies, massage, car wash, food delivery (DoorDash/UberEATS)
Donate to their favorite charity on behalf of them
Set of personalized note cards for all those notes they have to write here and there
Monthly subscription for 3-6 months for so many things (snack specialties, hobby)
Higher cost:
Update their technology – new phone or device (tablet or laptop)
Love offering to be used at their discretion
Share points for either a plane ticket or hotel
Something for their car (detailing, tinting, new tires, etc.)
Year membership to something like Sirius – can be used in their car, at home or mobile device
Meat from someplace like Omaha Steaks (know that they have freezer space)
~ Janet Earls is the director of Church Vitality and Leadership Development at the Florida Conference.
NEW Ministry! Ladies ministry for all woman who are looking for that connection within the church and community
Ladies! Want to get connected? Is your daytime rocked with responsibilities? Work? Kiddos? We meet again Friday November 19 at 7:00 pm in Building A. The theme, "In all things be grateful." Following a brief devotion and time of prayer, we will create an inspirational stencil craft. Come and enjoy our time of fellowship as we demonstrate our creativity –and for some of us—discover if we have creativity with crafts. Contact the office for more details.
Friday December 17 at 7:00 pm in Building A. The theme, "Jolly jingle game night." Following a brief devotion and time of prayer, we will engage in fun activities such as "minute to win it," and judging of the ugliest Christmas sweaters. So, wear your ugliest Christmas sweater. You may win a prize. Water and snacks will be provided.
Please call the church office with any questions you may have.
Please consider serving the Lord at your church, see link below!
Unity Study with Pastor Greg
Pastor Greg Freeze is leading a nine week study on the book "Until Unity" by Francis Chan. One parishioner was so moved by the Holy Spirit after reading Until Unity, they purchased 50 copies to give away free to our congregation. You may have been one of those blessed by such generosity. This book gives a fresh perspective of God's vision for His holy church. The study began Wednesday, October 6th (@ 7pm) through Zoom. You will need to pre-register for this class. There are just a few spots available to sign-up.
Prayer and Healing Ministry
The Intercessory Prayer and Healing service meets in the Choir Room on Tuesdays at 9 am. You are invited to join this small group of faithful Prayer Warriors who gather for songs, Intercessory prayer support and communion each week. They faithfully intercede on your behalf with petitions to the Lord.
We also have 64 Prayer Partners who receive weekly email updates for prayer requests. These requests come in by phone to the office, but mostly by prayer cards on the website. Phone calls and weekly communications with the church family is vitally important for this ministry and results in finding needs for prayer that way as well. We celebrate our Praises and answer to prayer also.
Prayer requests, updates and praises are shared each week as the Prayer list is updated and sent to all in the Ministry weekly.
Books of the Bible on video
We offer a number of Old and New Testament Books of the Bible on our website. It is set up so you can choose which Book (even which chapters/verses of that book), you would like to view. This is great for those with limited sight or have difficulty reading. Each one lovingly recorded for your listening and viewing pleasure by members of SpringLife Church.
Many of the Old Testament books have 'names' of people and cities that only select few readers prefer to tackle. If you are one of them and would like to participant as a reader, please contact Joanne in the office.
Take-Out Tuesdays are here.
FREE Tuesday Dinners is a take-out style meal service each week. Pick-ups start at 5 pm. It is very important we use our resources wisely and an accurate head-count is so very helpful to reach that goal. Reservations can be placed up to Noon on Tuesday or when we have reached our limit of 160 dinners, whichever comes first. Please reserve your meal(s) by texting the word "takeout" to the church phone #352-683-2600 or click the link below:
NextGen Ministries
The NextGen is "planting many kinds of seeds" and "tilling the soil" in preparation for our growth potential. Leviticus 19:23-25.
The NextGen Program team is being developed and trained. This will be a collaborative team that will help create and implement content and design for weekly programming.
NextGen teens are looking to do a service project along the coast at the end of the month. This project is being sponsored by the Sea Scouts and is presented to us by Brenden Young - one of our teens.
Next Gen Ministry to kids, Youth and Families, Bryan Quinn, leader email is nextgen@springlife.church
Operation Christmas Shoebox is our October Mission of the Month
One of the phrases that Samaritan's Purse uses a lot is that these boxes are GO boxes. GO stands for Gospel Opportunity. The gifts inside the box actually open the door for the Gospel to be shared with each child through a series of books and discipleship classes that thru the magic of Godly multiplication brings family and friends into the kingdom as the child spreads the good news of God's Love for them in sending Jesus the Christ. Thus many people love to pack and send these boxes. They would rather do this than just donate money. One way to do this if you can't get out is through the Build a Box online option. If you wish you can go to a special website at www.SamaritansPurse.org/BuildOnline and with just a few clicks accomplish the same task at home as you would have by going to the store and shopping. The $25 charge includes the shipping. If you would like to donate monetarily in support of this ministry, use the link below.
A Word from the Mission Chairperson: The Mission Ministry is looking for volunteers to join the Team. Do you have a heart for helping others? Perhaps you are passionate about a community outreach that you know could use extra funds with their worthy assistance to those in need. Our goal is to help fund raise for the M.O.M.'s, many of which are locally established charities. Call the office for more information about how you can help.
Men's Bible Studies...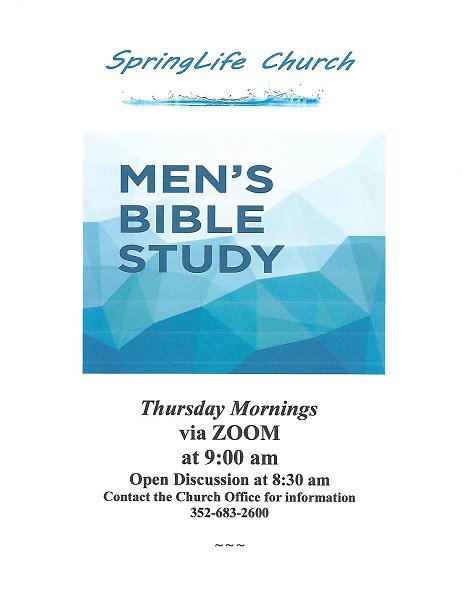 The men's Thursday Morning Bible Study is returning to Zoom only for the time being. The group connects at 8:30 a.m. with the study beginning at 9 a.m. We are currently studying thru 1 & 2 Peter. Contact Andrew Schwartz 703-581-7144 for the zoom link to be included in the weekly study.
There is also a small UMM Tuesday Morning 8:30 a.m. "Apologetics" Bible study group that is once again meeting in the church library. We are currently studying the Apostles Creed and will soon begin a new study with a book called "Case for Heaven" by author Lee Strobel. You are welcome to attend this study.
You do not need to be a member of the church to join either of these interactive studies to read and hear God's Word. Just have a love for God!
Ministry Updates - October, 2021
KAIROS
Kairos members wish to thank everyone for your prayers of support for this past weekend when they when into the local ladies prison to share the Word of God with the inmates. We hope to have an update soon detailing the blessings of this ministry's efforts last weekend.
Dance Fit:
Hey DanceFitters.
As we've said from the time we restarted DanceFit back in April, we are living in unprecedented times with a fluid situation that would probably require constant monitoring and flexibility. We appreciate everyone's patience as we have tried to navigate all of this and make the best decisions we can, for the majority of the group, with the information that we have available. And we really appreciate those of you who have come along for the ride and participated in class with us. It is always so much fun dancing with you!
That being said, after much consideration, we have decided to cancel DanceFit classes for the time being again. There were several factors that weighed into this decision. A few of the more prominent factors are...
-Increase in COVID cases, even among the vaccinated
-Hernando County being classified as a community with a high level of transmission of COVID
-The CDC's latest guidance recommending masks again be worn indoors by all, including the vaccinated
-The unknown prognosis of Beth's knee affecting her ability to help lead
-School starting back for leadership's kids, as well as for Bridget as it pertains to her job
We will continue to monitor things. But, we would like to wait and restart DanceFit when we can be somewhat sure that we can provide a more consistent and reliable experience for all. ~ Beth Coldwell
Prayer Shawl Ministry...
The Prayer Shawl Ministry is planning a meeting on Wednesday, October 20th at 10:30 am in room S#1 of bldg D.
The Prayer Shawls Ministry has a continual need for Prayer Shawls—adult size approx. 26" wide by 60" long—the best size for wrapping around one's shoulders. We have just a few adult size on reserve. We accept new and clean donations crocheted, knitted and even thin quilted shawls. (What we do NOT need are lap robes, baby shawls, wraps, and odd sizes.) You can bring your 26" X 60" Prayer Shawls to the office for the Pastor to bless them. If you would like to make shawls but are in need of yarn, we can help. Call the office for contact information.
Music Ministry
Chancel Choir practice has resumed for members who have been fully vaccinated - that includes about 30-35 positions.
We are seeking a church accompanist. Anyone interested in being considered for the paid position, please contact the church office.
I have been given the green light to take over the position as the Leader of the Praise Band and will be incorporating the music and Chancel Choir together more as time progresses this summer and fall with the one church service at 10:30 am. ~ David Pletincks
The United Methodist Men
On September 17th the UMM delivered a $1000 check to Lieutenant Chamberlain of the Salvation Army of Hernando County. He was very appreciative of the generosity of the men of SpringLife Church.
Tuesday of this week I met Brenda Motter, co-chair of our church's Weekend Blessings (backpack) Ministry at Sam's Club. Together we purchased over $450 of snacks for the backpacks thanks to funds earmarked by the UMM for this purpose. Those snacks were then delivered to the church and stored in the office conference room. From there the snacks and treats will be placed into kids' backpacks on a weekly basis by the Weekend Blessings team.
Other distributions of UMM 2021 budget funds were distributed to: $1000 to FUMC Scholarship Fund, $250 to the Florida Sheriff's Youth Ranch, $250 to Jericho Road Ministries, $1000 to UMCOR, $500 to Kairos and $250 to the Boy Scouts.
Other "behind the scenes" UMM member activities:
New sod installation on the west side of the Sanctuary was spearheaded by Dick Christensen. The sod was needed after those grass areas died. Electric cables that fed the sprinkler controller in that zone were severed during the new sign installation. After several attempts to find where the cable was severed, Dick located it and had a professional repair it. That area is now back to %100.
There's always a constant "battle" to locate and repair any of the several dozen sprinkler heads around the campus and the Friday Work Crew is on top of that too. Just this week three of those non-working heads were repaired.
Another UMM Friday Work crew project has been to update the planter beds adjacent to the walkway outside the main entrance of the Sanctuary. Seventeen new Juniper plants were planted and replaced some unsightly shrubs. More of the same will be done on the other side of that walkway in the not too distant future.
All of this work is done in an effort to keep God's house, our house, in beautiful shape.~Andrew Schwartz, UMM President
The Library
The library has received quite a few used and a few new books and DVD's over the last couple of months. 47 titles have been cataloged and added to the library. They are presented as new library items in the Online Public Access Catalog (OPAC) that is available at SpringLife.Church > Library.
50 titles have not been added to the library and will be made available to the congregation as FREEBIES. Reasons they were not added to the library include,
Duplicates of existing library items
Poor material condition
Secular topics available at public libraries
Aged copyrights that we have newer material for the topic
OPAC has received a new "Fall" season face lift. Also a "recommended titles" section has been added. Several titles a month will be highlighted along with a description of the item. This month's titles include:
Until Unity (Frances Chan) – Recommended by Pastor Greg
Agents of Babylon: What the Prophecies of Daniel tell us about the End Days (Dr David Jeremiah)
Summer (Karen Kingsbury)
Angels Take All Forms: sequel to Surrender (Nancy Gibb)
Additionally, we will begin an effort to purge secular materials that have not been checked out in 10+ (or more) years. ~Lynn Logue
Take-Out Tuesday report
For the month of September we served 624 meals. And we couldn't have done it without all our volunteers, especially the cooks! Speaking of cooks...we are in need of one to join our rotating schedule. If you are interested, please contact the church office.
Please keep the Tuesday Dinner Ministry lifted in prayer. We prepare and serve 160-170 meals each week, and yet even with this great number, many seeking to sign up are unable to because our reservation list fills up so quickly.
Congregational Care Report- Monthly Report
Congregational Care Report- September 2021
It is a privilege to serve beside Lorenda Rodriguez and the Care Companions to bring some joy into the lives of our congregational members who are seeking companionship. The presence of the Holy Spirit gives us hope and peace as we minister to each other.
Care Companions
Please pray for one of our newest Care Companions, Pat Masters, who has been diagnosed with breast cancer for the second time. Pat's husband currently does not drive, so we are creating a carpool of SpringLife members who live in Wellington at Seven Hills to provide transportation for her when she knows her treatment schedule.
We have another Care Companion, whose name I don't have permission to release, who needs our prayers. Her husband has been ill, unable to walk, and now is showing signs of dementia. She looks after two (2) of our Care Receivers, so her plate is full.
If you know someone who is kind and compassionate, would you kindly forward his or her name to Lorenda or myself to become a Care Companion?
Care Receivers
We have matched up three (3) Care Receivers with Care Companions, so we have two (2) more to match. This number changes often and Lorenda receives many calls from people asking for our services. Thank you for praying that we continue to meet the needs of our homebound congregational members.
Casserole Ministry is Ready to Expand
My original vision for this ministry was to provide this service to anyone who needs a meal. I think we are ready to take baby steps in that direction. The casseroles in the freezer can feed 1-2 people. If there is someone you know in your area of ministry who you feel could benefit by having a frozen casserole meal, please let me know via phone or text. I will give you instructions on where they are stored and what to do in order to get one. 402-681-3769-call or text Cheryl
Yours in Christ, ~Cheryl Miller
Next Gen Ministry
The NextGen Ministry has been busy, and we are on track with my 5 year plan based on Leviticus 19:23-25
Year one: Survey the land
Year 2-3: "Planting seeds of many kinds"
Year 4: Relentless Discipleship and Continual Pruning
Year 5: The year of Abundance
Currently for the NextGen Ministry:
Kids Church: we have seen more kids show up to Kids Church recently with the last Sunday having nearly 30 people altogether. We are now developing quarterly events for all kids within Kids Church as well as separate events for the various Kids Small Groups. Right now, we have a comfortable amount of volunteers, however with more volunteers, we will be able to be more effective in the future of this ministry at the rate we are growing.
Youth: We have officially changed the time we meet from Sunday's at 3-4pm to Sundays at 5-7pm. This switch has been accepted well and we will soon be developing a Student Leadership Team. This Team will focus on Commitments to Christ and his Church through acts of service as well as developing ways in which to grow our group. We are starting to hit the cap of effectiveness until I can recruit volunteers for this ministry.~ Bryan Quinn
Ask the Administrator, Bob Coldwell
10/8/21
Here's a financial update through August 2021:
Anticipated Expenses: $675,446
Operating Giving: $569,708
Actual Expenses: $584,552
Mortgage Giving:$54,736
Mortgage Expenses: $72,456
9/10/21
First, thanks for the many prayers for our family during our recent illness. We are grateful we were minimally impacted, relatively speaking. There continue to be so many within our church, schools, and community who are navigating this pandemic.
The Trustees continue to facilitate infrastructure upgrades and replacements as they are occurring. Recently, a fuse blew in an older model panel box in our office building which impacted one of the main air conditioners. We are going to relocate the AC unit over with the other units and utilize a different power source, but looking at a replacement of the older fuse panel as well. My thanks to their efforts in evaluation of solutions.
Summer is essentially over and ministry leaders are trying to dream of re-establishing or offering new ministries, but this most recent viral surge is sure making decisions about fall opportunities quite tough right now.
7/29/21
We've gathering some or our key statistics for the first half of 2021 and wanted to share a few with you.
In-person attendance continued to increase as we went from spring into summer.
30-40% of those who check-in their attendance are viewing from home.
About 30% of our giving comes through on-line donations now.