Here's What's Happening in the Life of the Church
In-Person Worship continues in January! We've setup a separate page to address issues of Covid-19 and In-Person Worship.
Pastors Bible Study on Joshua: Faith and Courage
Pastor Greg leads another in depth study by Zoom for 10 weeks beginning January 20 to March 24 at 7 PM. Please sign up by clicking the link below. Remember to register just 1 name per household even though more than one may be viewing. Need help or have questions we are available at 352-683-2600.
Just TEXT the word "check" to church phone number to let us know you are 'viewing' Worship services.
It's so easy! Our Church Teams database makes streamlined technology available to us and especially now when we have limited in person Worship we find this very useful. Some of us are attending in person but others still feel unsafe doing so.
After you watched the weekly message, use your smart phone to send a text message to the church phone # 352-683-2600. Text the word "CHECK" and send along, instantly you will be sent a link and if you follow that link you can check in yourself and any others in your household as having viewed the weekly message. This helps us stay connected to you and know that you are actively participating in the life of the church. Go ahead and save the number as a contact in your phone as there will be additional features available as well.
One Year Devotionals available for check-out
Our Church Library has many One-Year Devotionals… to choose from. You can borrow a one-year Bible or devotional one for a year. We have several versions and formats, regular and large print, also CD and DVD versions! You can check them out in-person during the services on Sunday and Christmas Eve. The Library will be open again Tuesdays from 10AM - to Noon starting January 5, 2021.
Prayer and Healing Service in Person: NEW TIME, 9 AM on Tuesdays
Jan Griffioen leads the gathering in the Sanctuary. Prayers, sharing, anointing, scriptures, meditations and music. Call Jan if you are planning to be here in person, 616-540-0825.
21 Books of the Bible now available on video
Pastor Greg encouraged us in his "Anchored" sermon to get into the Word of God, to read the Bible. If you would like it read to you...we have 21 Books available on line recorded by our very own members of SpringLife Church!
Take-Out Tuesdays are here.
The free Tuesday Dinners have begun. This will be a pick-up/take-out style meal service each week from 5 - 6 p.m. And...of course...there is no charge. January menus are; 1/12 Chicken Parmesan with spaghetti; 1/19 Luke 14 dinner; and 1/26 Salisbury Steak with mac & cheese. It's very important we use our resources wisely and an accurate head-count is so very helpful to reach that goal. Please reserve your meal(s) by texting the word "takeout" to the church phone #352-683-2600 or click the link below:
Prayer Ministry Update- Thank you Prayer partners for signing up- keep on doing so!
Our Church's weekly prayer list in maintained and updated each week. If you would like to receive this list in an email,
please register here: We will gladly include you each week! We love hearing from you and including you in our prayers.
Fill out a prayer request on the Prayer card on the home page of website or email to Lorenda at connections@springlife.church.
Praise reports and updates are always welcome so let's hear from you this week!
Please let the office know even if you will be in a hospital that is NOT local. We can still include you in our prayers!
Join us Tuesday mornings at 10am on Facebook for a Live Sermon Recap with Nancy and Bob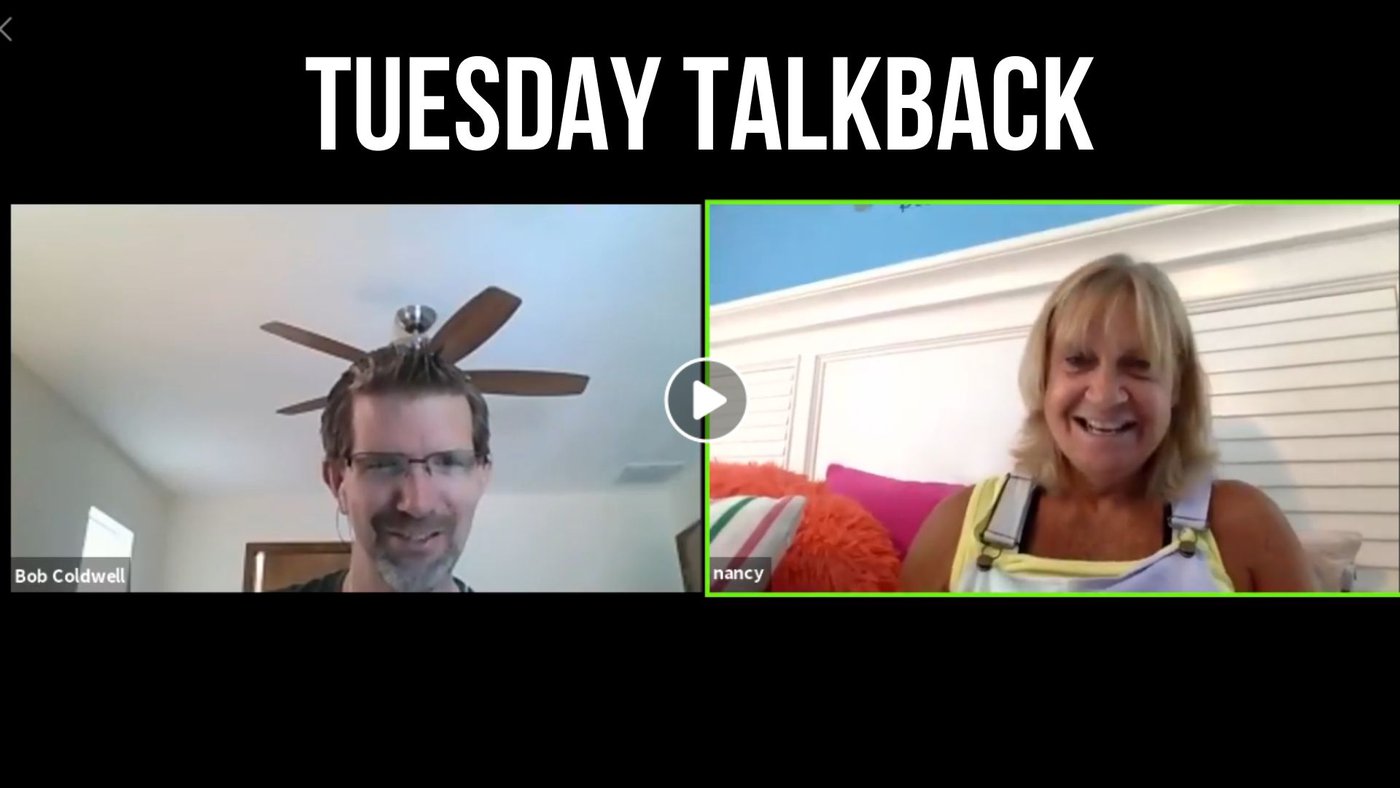 NextGen Ministries
The NextGen Ministry is ONE ministry that supports the larger church by helping families "Win at the things that matter most"
What's going on right now?
Children's online Sunday School can be found on our website SpringLife.Church/nextgen
NRE - NextGen Resource Emails - is the best place for parents to stay in the loop, gain helpful resources, and stay connected to the NextGen Ministry. Sign up today through our website SpringLife.Church/nextgen
In person Children Sunday School is still on hold for the time being. Sign up for our NREs for more info.
Youth Group is meeting in person in the "A" building Sundays from 3-4pm. Sign up for our NREs for more info.
We have a parents only Zoom meeting every first Monday of the month called "Parents' Time Out", so if you are a parent of a child from birth to not-yet-graduated, then you are invited. Sign up for our NREs for more info including a Zoom link to the parent gatherings.
Look Forward To...
Children's Sunday School is not open now, we will be opening soon. We are in need of help! Check below in our needs section of more information.
Needs:
Children's Programming needs your help! We are in need of volunteers in every area of the ministry: small group leaders, program coordinators, tech, craft specialists, welcome/check-in extraordinaires and more. We need people who love kids and who love Jesus. If that is you or you're just curious about kids ministry, email me directly nextgen@springlife.church.
Scholarship Fund - January Mission of the Month
Our church offers Scholarships to active members who are enrolled in full time secondary educational school. All donations made will go into the fund to offer scholarships to deserving candidates this next school year (August 2021). Won't you help us to collect $3000?
Men's Thursday Bible Study ... Yes!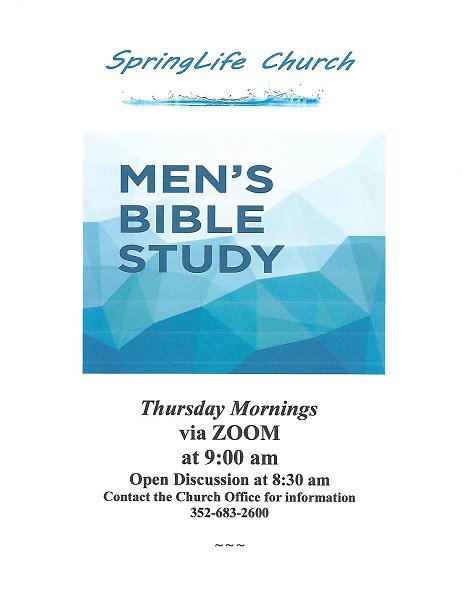 The men continue with zoom.com to reach out to the men of the church with a Thursday morning Bible study. Contact Andrew Schwartz 703-581-7144 for the link to be included in the weekly study You do not need to be a member of the church, just have a love for God, to join this interactive study, read and hear God's Word. The weekly Bible study is held Thursdays, 9 a.m.
Ministry Updates - December 1, 2020
The Healing And Prayer Service
Happy New Year!! We meet every week on Tuesday's at 9 a.m.in the Sanctuary.
Next Gen Ministry
Hi all, This year we will be concentrating on creating, building, and partnering with Teams. The Events Team creation is underway albeit in its infancy. I hope to have it up and running by late February. The Program Team will take extra time due to Covid, but this will be the Team that will tackle Sunday School and possibly other mid-week offerings (Wednesday night?). Unfortunately, its hard to pinpoint a time for the Program Team's creation. I hope to have a Family Team recruited and trained by early Fall. The hope is that this Team will concentrate on the health and spiritual growth of the family unit revolving around Marriage. Another Team that may form naturally and will need our support is "20 Somethings". We are also hoping to partner with other Teams in 2021 that already exist for the benefit of all involved: Men's, Women's, Small Group, and Missions. ~Bryan Quinn
The United Methodist Men
1) Begining December our Friday work crew met twice to keep-up the grounds. It will be several weeks until we meet again for a mid-winter "cut 'n clean". 2) The last of our budget commitments for 2020 were distributed. 3) Our Thursday morning bible study is ongoing and now in Chapter 3 of Galatians with our latest attendee hailing all the way from Kansas City Missouri! Our smaller Tuesday group is coming up on the conclusion of a study of apologetics. 4) We're considering a partnership with Spring Life's NextGen ministry and what that will look like in 2021 and beyond. Stay tuned!
Andrew Schwartz, UMM President
The Library
The library continues to be open on Tuesdays from 10 am – 12 noon. We have enjoyed visiting with a variety of patrons each week. To view recently added materials use the Online Public Access Catalog available 24-7 at www.SpringLife.Church , click on LIBRARY from the menu. Remote checkouts can be requested by contacting us at library@springlife.church. We will check out the resource to you and make it available in the church office; or just come and see us on Tuesdays.
Even more exciting and interesting books, audio books, CD's and DVD's have been received and are being processed. They will be available in January. Communications about these new materials will begin then.
Discussion with existing library volunteers is ongoing. I am working with them to determine their level of interest in staffing the library when open, working with the new technology, and continuing with previous tasks that need to be resumed.
Food Pantry Yearly report
This was a building year for us. We constructed a storage area in the church's multipurpose building (which is now mandated by USDA), contracted for an aluminum roof to be placed over the outside freezer in order to protect the freezer's vinyl covering, painted the walls and floor in the current pantry area, replaced shelving to allow for more storage space within the existing pantry and lastly contracted and replaced the outside freezer door and frame due to deterioration of the existing door. We provided 526 families with items for their Thanksgiving dinners during the month of November this year.
Unfortunately Covid also allowed us to build our client base. As such the pantry volunteers were able to serve 9,279 families this year and distribute over 342,000 pounds of food to those in need. The pantry was not adversely affected with closing during this year due to the due diligence of our volunteers. We continue to use masks, gloves, hand washing and social distancing practices.
We are looking forward in 2021:
Receiving a truck for the pantry allowing us to pick up food products from USDA and Feeding Tampa Bay and utilizing our trailer as necessary for that purpose.
Centralizing the pantry and products in one location.
Developing team leaders to coordinate the numerous daily activities of the food pantry.
*We continue to serve regular and new clients each Wednesday. New hours: 9am—2 pm.
Larry Milks
Congregational Care Report
Care Companions-We currently have 14 Care Companions serving 31 congregational members in need (called care receivers). We have three (3) new people who have volunteered to become Care Companions. Cheryl/Lorenda will be orienting them and partnering them with care receivers in January.
Casserole Ministry-The pilot program for Casserole Ministry began in mid-December and three (3) care receivers have received a casserole thus far. These first casseroles were prepared for 2 people. We look to expand this ministry in late January in partnership with Jan Griffioen. We have not met to work through the logistics and will publicize information about this ministry sometime in February. Tuesday Take Away Dinners will provide an opportunity for our Care Companions to deliver meals to our care receivers. Once Jan Griffioen and her team are ready, we will coordinate the most efficient way for meal pick up.
Providing Care Through the COVID Time Period--99% of the communication between Care Companions and care receivers is by telephone, e-mail, and mailing greeting cards, devotionals and church newsletters. If face-to-face meetings are done, they are with permission and agreement from both parties. We have had one (1) of our Care Companions report about meeting in person this past month.
Home Communion was served to a homebound couple in December. Martie Chapin, the Homebound Communion Server reported that it was a very meaningful time for all three (3) of them. Pastor Gregg will also serve communion to homebound members face-to-face.
Kairos
Happy new year! Not much to report from the Kairos camp. With the resurgence of COVID numbers, the administration at Hernando correctional is reducing the number of ministries and people allowed in. We are definitely in a holding pattern even for our big March weekend. One thing we can continue to do, however, is pray for everyone on the HCI compound and the volunteers within the Kairos community. Thank God we do not need a specific place or time to pray. We can raise our praises, requests and thanks to Him at any time or place! Blessings, Nancy McClellan
Ask the Administrator
1/8/21
We're busy gathering up all the info about last years' impact in order to share in the coming weeks and making plans for 2021.
11/18/20
I wanted to take the opportunity to share a financial update thru Sept:
Anticipated Expenses: $753,682
Operating Giving: $668,853
Actual Expenses: $667,482
Mortgage Giving:$60,848
Mortgage Expenses: $81,513
There are were additional funds (~$6,000) through the Paycheck Protection Program that were eligible for the interest portion of our mortgage payment for 2 months which is very helpful.
We continue to keep a close watch on our expenses and giving through this Covid season.