Here's What's Happening in the Life of the Church
In-Person Worship! We've setup a separate page to address issues of Covid-19 and In-Person Worship.
Just TEXT the word "check" to church phone number to let us know you are 'viewing' Worship services.
It's so easy! Our Church Teams database makes streamlined technology available to us and especially now when we have limited in person Worship we find this very useful. Some of us are attending in person but others still feel unsafe doing so.
After you watched the weekly message, use your smart phone to send a text message to the church phone # 352-683-2600. Text the word "CHECK" and send along, instantly you will be sent a link and if you follow that link you can check in yourself and any others in your household as having viewed the weekly message. This helps us stay connected to you and know that you are actively participating in the life of the church. Go ahead and save the number as a contact in your phone as there will be additional features available as well.
Prayer and Healing Service in Person Tuesdays at 9 AM
Jan Griffioen leads the Prayer Service in the Choir Room. Prayers, sharing, anointing, scriptures, meditations and music. Call the office for more info, or if you would like to attend in person, 352-683-2600 x 0.
21 Books of the Bible now available on video
Through the recordings of 70+ church family volunteers, we have available a number of Old and New Testament Books of the Bible on our website. If you enjoy Psalms in particular, you can go directly to listening to the Psalms. If you have a preference for the Gospels - Matthew, Mark, Luke or John - we have them available also, as well as many more Books of the Bible. Each one lovingly presented to you for your listening and viewing pleasure. It is set up so you can easily choose to watch any of the Books and pick up at any chapter recorded by our very own SpringLife Church family!
Take-Out Tuesdays are here.
FREE Tuesday Dinners is a take-out style meal service each week. Pick-ups start at 5 pm. It is very important we use our resources wisely and an accurate head-count is so very helpful to reach that goal. Please reserve your meal(s) by texting the word "takeout" to the church phone #352-683-2600 or click the link below:
Prayer Ministry Update- Thank you Prayer partners for signing up- keep on doing so!
We currently have 65 Prayer Partners who receive weekly email updates for prayer requests. These requests come in by phone to the office, but mostly by prayer cards on the website. Phone calls and weekly communications with the church family is vitally important for this ministry and results in finding needs for prayer that way as well. We celebrate our Praises and answer to prayer also.
Thank you to Jan Griffioen for taking up the lead on " in person" Healing and Prayer at the church on Tuesday mornings. She has a small core of folks who show up each week and our printed prayer list is shared with them. She is encouraged to have others join as they feel safe to gather for songs, Intercessory prayer support and communion.
Lorenda Rodriguez
Join us Tuesday mornings at 10am on Facebook for a Live Sermon Recap with Nancy and Bob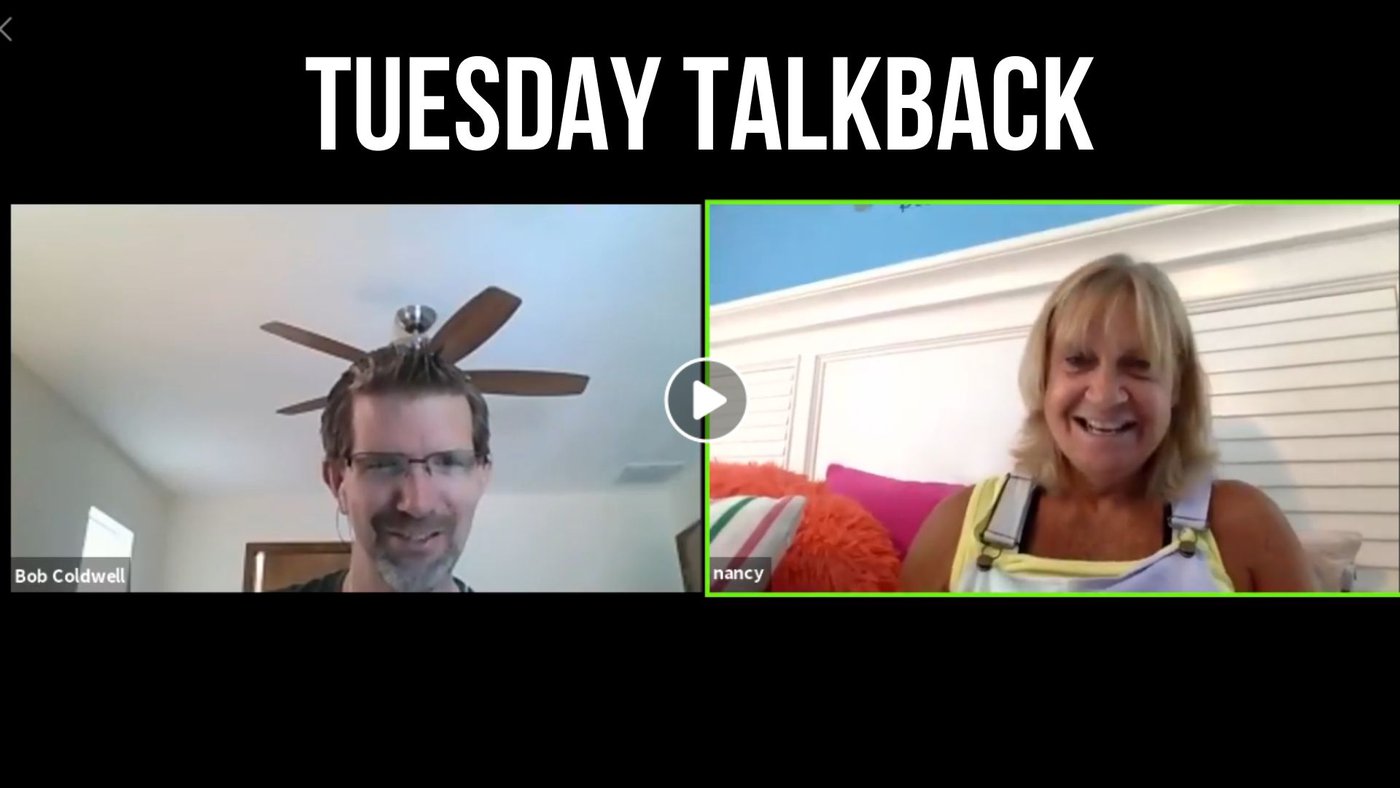 NextGen Ministries
Next Gen Ministry
The NextGen Ministry has been busy, and we are on track with my 5 year plan based on Leviticus 19:23-25
Year one: Survey the land
Year 2-3: "Planting seeds of many kinds"
Year 4: Relentless Discipleship and Continual Pruning
Year 5: The year of Abundance
Team Building: I have created the NextGen Events team that will eventually explore avenues of engagement to help connect kids to Jesus from all levels of commitment. Later this Spring, I will be creating a NextGen Programs team.
Partnering: I met with select ministry leaders of our church with the purpose of exploring avenues of partnership. Particularly, I have talked with Men's, Women's, and Grow ministry leaders about ways we can help each other's ministries with mutual benefits. Specifically, ways to help make disciples of parents with kids and teens (dads, moms, and small groups for couples) .
Reason - As I have already mentioned to these leaders, I believe the "key" to a lasting faith of a student is through the strong faith of parents. Because of this, I also told these incredible ministry leaders, "Your success is my success, so how can I make your ministry a massive success in 2021"?
Other: I have also met with the Mission committee challenging them to create a churchwide Mission trip. This challenge is to create a Mission trip for the church and then "invite" high school students on this church Mission trip. I believe this challenge was well received and I look forward to seeing what the Mission Committee comes up with.
Reason - The purpose for this challenge as far as the NextGen ministry is concerned is to provide an avenue of multi-generational discipleship based on relationship building and serves. (side-note: if you have ever experienced a multi-day mission trip experience, then you know how powerful of a request this is).~Bryan Quinn
New Member classes in person and by ZOOM starting in March. Join on May 2, 2021
We are asking those interested persons to please sign up for New Members classes set to being on Wednesday evenings at 6 PM, March 3rd to April 21, 2021. All sessions are 1 hour minimum and each class is a different topic from the curriculum: Rock Solid, "What We Believe about..." written by Pastor Greg. Go to https://springlife.church/new-members-registration and fill out your interest in attending these sessions. The office will contact you for further information.
Cup of Cold Water - February Mission of the Month
"Cup of Cold Water," their outreach ministry in Thailand...
...as told by CCWM Ministry Leaders Noah & Maria Ward. "Noah is starting an outreach at our school geared to minister to the Thai families. It's a soccer league for elementary age kids. Each week there will be a short devotion style lesson on the Christian life. Our children play on the playground and we share meals with our neighbors. Pray that the students and parents will be open to the Gospel. Pray that relationships will be built and there will be opportunities to share about our faith.
"Our ministry is everywhere we are and we live and work with those who are unreached by the Gospel. What an honor to be the first to introduce Jesus to someone but also what a need we have for your prayers. It is no small matter that our lives and words are observed and considered. We are the ambassadors for Christ to a people who do not yet know Him."
Today, CCWM helps 32 ministry workers around the globe to GO where God has called them to be. "If anyone gives a cup of cold water to one of these little ones because he is a disciple, I tell you the truth, he will certainly not lose his reward."
— Matthew 10:42
Men's Bible Studies...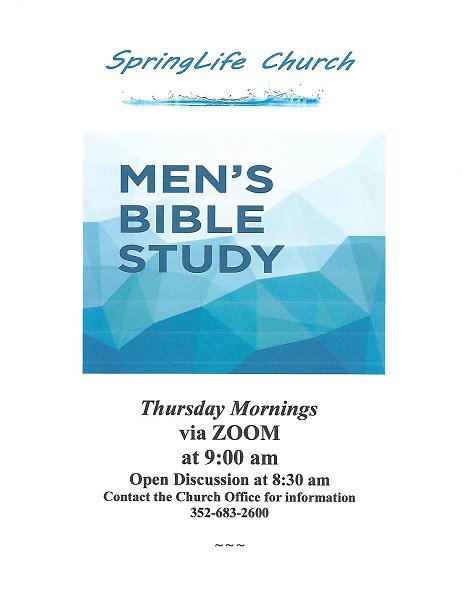 The men continue with zoom.com to reach out to the men of the church with a Thursday morning Zoom Bible study. Contact Andrew Schwartz 703-581-7144 for the link to be included in the weekly study You do not need to be a member of the church, just have a love for God, to join this interactive study, read and hear God's Word. The weekly Bible study is held Thursdays, 9 a.m.
There is also a small UMM Bible study group that meets in-person each Tuesday at 8:30 am for "Apologetics" in the library. Contact the church if you would like to join this study.
Ministry Updates - February, 2021
The Healing And Prayer Service
We meet every week on Tuesday's at 9 a.m. in the Choir Room.
Music Ministry
The music ministry is pressing on amid the COVID pandemic. We are in the process of having the two quartets that rotate singing the hymns, learn some special music that can be shared on Sunday mornings. In addition, Ashley, Cherie and myself are working on some music as well to add to the service occasionally. The Handbell choir is continuing rehearsing and is blessing us with choice selections in select services monthly.
I'm also attempting to restart the prayer request updates by email with the choir. I'm hoping to send out updates from time to time. We continue to keep Kathy Hackemer's husband, Horst, in prayer. This is another way to keep people informed on how each other is doing health-wise as well how we may be better able to support them in prayer. ~David Pletincks
L.I.F.T. Ladies in Faith Together
The board of LIFT (Ladies In Faith Together) met in person this month at Church wearing masks. It was great to be together. It was discussed and decided to make contact with each active member at least once a month. Each board member has a list of women to communicate with monthly. We continually keep the members updated by email. ~Judy Kalee, President
The United Methodist Men
1) Beginning December our Friday work crew met twice to keep-up the grounds. It will be several weeks until we meet again for a mid-winter "cut 'n clean". 2) The last of our budget commitments for 2020 were distributed. 3) Our Thursday morning bible study is ongoing and now in Chapter 3 of Galatians with our latest attendee hailing all the way from Kansas City Missouri! Our smaller Tuesday group is coming up on the conclusion of a study of apologetics. 4) We're considering a partnership with Spring Life's NextGen ministry and what that will look like in 2021 and beyond. ~Andrew Schwartz, UMM President
Spring is here and everything is beginning to grow...which keeps our Friday Work Crew busy - mowing, trimming, weeding, blowing leaves, and much more. The number of workers is dwindling and we are in need of new volunteers. If you would like to help keep the church campus grounds beautiful and fellowship with other men, come join us 7 am on Friday morning.
The Library
The library continues to be open on Tuesdays from 10 am – 12 noon. We have enjoyed visiting with a variety of patrons each week. To view recently added materials use the Online Public Access Catalog available 24-7 at www.SpringLife.Church , click on LIBRARY from the menu. Remote checkouts can be requested by contacting us at library@springlife.church. We will check out the resource to you and make it available in the church office; or just come and see us on Tuesdays.
Even more exciting and interesting books, audio books, CD's and DVD's have been received and are being processed. They will be available in January. Communications about these new materials will begin then.
Discussion with existing library volunteers is ongoing. I am working with them to determine their level of interest in staffing the library when open, working with the new technology, and continuing with previous tasks that need to be resumed.~Lynn Logue
Food Pantry report
Blessings to all from the food pantry,
Last month we added 121 families to our continuing growing list of families needing food assistance from our community. The pantry is so blessed to have such a wonderful group of dedicated volunteers and the continued financial support that we have been able to meet these monthly increases and should do so into the coming months. The outside freezer door and frame has been removed and has been replaced with and much more energy efficient frame and door. Crosspoint Refrigeration has done an excellent job in keeping all our refrigeration equipment in a highly operational condition this past year. We recently received a needed donation of a truck to pull our trailer as needed to pick up products locally and from the USDA distribution center in Port Richey. We are optimistic that all the details will be worked out so we can have it operational in February. ~Larry Milks
Take out Tuesdays-Tuesday Night Dinners Ministry
Praise God that Take Out Tuesday served 375 people in the month of January. We have found the way we have to serve is completely different then when we served in house. But God has provided. We thank God for our volunteers and all the help we get from our church staff. ~Jan Griffioen
Congregational Care Report- January 2021 Monthly Report
Care Companions-We still have 14 Care Companions serving 31 congregational members in need (called care receivers). The three (3) new people who had volunteered have decided that this is not a good time for them to become involved in the ministry, so we are praying for volunteers who feel like they are being called.
Casserole Ministry- We made 8 more mini-casseroles (to serve 2 people) to store in the church kitchen freezer. Three (3) Care Companions consistently deliver casseroles to their care receivers. We will try to expand this ministry to homebound congregational members this month, but decided we are not ready to expand this ministry to all of the congregation just yet. With Tuesday Night Take Out Dinners so busy, we have yet to work through the logistics to offer it to more people. ~Cheryl Miller
Kairos
Happy new year! Not much to report from the Kairos camp. With the resurgence of COVID numbers, the administration at Hernando correctional is reducing the number of ministries and people allowed in. The March weekend was cancelled. One thing we can continue to do, however, is pray for everyone on the HCI compound and the volunteers within the Kairos community. Thank God we do not need a specific place or time to pray. We can raise our praises, requests and thanks to Him at any time or place! ~ Blessings, Nancy McClellan
Church Chat - Feb 28th
We wanted to remind and invite you to our Church Chat this Sunday afternoon. This is a chance to a share and discuss a few church business matters as we celebrate some of the work from 2020 and look into 2021! This meeting will be held both in-person and online.
We have put together a page on our website to share some information in advance, view the meeting live or recorded, and provide a way to post any questions you may have. One subject will be concerning a legislation at the denominational level. At the risk of overstating, please, please, please, please, take the time to read the "Primer" first.
*There are NO votes to be taken at this meeting. Sign up here
Ask the Administrator
1/8/21
We're busy gathering up all the info about last years' impact in order to share in the coming weeks and making plans for 2021.
11/18/20
I wanted to take the opportunity to share a financial update thru Sept:
Anticipated Expenses: $753,682
Operating Giving: $668,853
Actual Expenses: $667,482
Mortgage Giving:$60,848
Mortgage Expenses: $81,513
There are were additional funds (~$6,000) through the Paycheck Protection Program that were eligible for the interest portion of our mortgage payment for 2 months which is very helpful.
We continue to keep a close watch on our expenses and giving through this Covid season.