Here's What's Happening in the Life of the Church
Florida is Re-Opening, What About the Church? - 6/5/20
We miss being with you! We can't wait to worship together again!
The church leadership has been monitoring multiple levels of guidance (federal, state, and UMC) through this Covid-19 season and will continue to do so as we develop a re-opening plan.
Currently we will NOT be meeting before the 15th of June. The leading phrase right now is "Not Yet" but " SOON"
NEW: In-Person Worship Optional after June 15th
The Florida Conference Re-Launch Task Force along with Bishop Carter and the Cabinet met this week and decided to allow churches to consider resuming in-person worship after June 15th on a limited basis according to a set of guidelines.
Thank you for responding to our survey. We have complied the data and formed a Re-Open Task Team to work on the logistics and establishing a re-open date for Worship. Your input and consideration have been of great help.
Can I come back?
Not Yet, the Governor has established a phased approach to re-opening the state. There are still limitations on how many may gather, while still utilizing social distancing. Facemasks are still encouraged.
When will services be?
SOON! we are thinking through multiple options and variations to meet again. We are also thinking through many logistical pieces, high traffic areas, and high-touch items.
Will you still offer services online?
Absolutely! We understand that some will not be ready to return immediately. We support your decision and want everyone to feel safe and ready for gathered worship.
Can my small group tailgate in the parking lot?
Not Yet, we know you want to see your group in person. We want that too. For now, the Trustees have determined that the campus will remain closed for group gatherings through at least June 15.
What about the facilities?
Our custodial staff has done a wonderful job of cleaning the Sanctuary, KidsZone, and other high traffic spaces on our campus. We are making some adjustments to the Lobby and other gathering areas during this time to help ease entering and exiting our facilities.
Many items that we took for granted previously are being evaluated or removed as we walk through the phases of re-opening and recovery.
Temporarily items like, hymnals, attendance pads, connect cards, and pencils will be removed from pews. Sections or rows may be taped off to assist with social distancing inside the worship spaces.
We will have offering boxes in the back of the worship spaces for cash and check giving. Online is still the best option as we move forward, this giving has been increased and we are truly grateful.
Communion will not be done through the Intinction method or passing the plates with juice cups any longer and alternatives are being evaluated.
What about the KidsZone?
Guidance from state and local sources are offering plenty of recommendations. We know that our classrooms will need to heed social distancing practices and group size limitations for much of the summer. More research is being done and currently, awesome online and social media connections are being offered as well.
What else will be impacted?
There are still many other items to be determined in the coming weeks. As we set a re-opening date, check back here for a better understanding of what to expect when you show up for an in-person service or Bible study. We want to do everything we can, to prepare and ensure a great and safe space to connect with God and one another when we return. Thank you for being part of the SpringLife family!
TEXT the word "check" to church phone number for making attendance easy!
Our NEW Church Teams database has made streamlined technology available to us and especially now when we cannot meet in person we find this very useful.
After you watched the weekly message, use your smart phone to send a text message to the church phone # 352-683-2600. Text the word CHECK and send along, instantly you will be sent a link and if you follow that link you can check in yourself and any others in your household as having viewed the weekly message. This can take less than 1 minute but save us hours of work each week tagging the attendance for you in the database. This helps us stay connected to you and know that you are actively participating in the life of the church. Go ahead and save the number as a contact in your phone as there will be additional features available as well.
Prayer Ministry Update- Thank you Prayer partners for signing up- keep on doing so!
Our Church's weekly prayer list in being maintained and updated each week, if you would like to receive this list in an email,
This will include you each week! We love hearing from you and including you in our prayers. Fill out a prayer request on the Prayer card on the home page of website or email to Lorenda at connections@springlife.church.
Praise reports are always welcome so let's hear from you this week!
Update from the Finance Team - 5/21/20
Dear SpringLife Family,
As the impact of Covid-19 began to impact the gatherings of churches, our church leadership has been monitoring not only health and safety information and guidance, but also the potential impact on our congregants, staff, and vitality as an organization. As so many segments of the workforce are being impacted, churches will need a plan to weather this pandemic and care for its employees as well. Great staff are difficult to replace and have tremendous influence on the culture of an organization.
Recently, the government developed a program referred to as the PPP or Paycheck Protection Plan. This allows small businesses, including churches, to guarantee and support their staff for a 2-month period while the country goes through this unthinkable experience. The unique part of this plan is that it initiates as a small business loan, but if the monies are used as intended, up to 100% of the loan can be forgiven. Because of the value we have for our staff and the uncertainty of financial impact by congregational donations as we entered this time, our Administrative Team opted to utilize this opportunity after a detailed description of the plan was presented by Bob Coldwell our Church Administrator.
There are many criteria and formulas involved, but we have obtained $125,000 through this program. At worse-case scenario, the full loan would be a 2-year term at 1% interest after a 6-month deferment. We will of course be submitting request for forgiveness within the guidelines at the end of the 8 weeks of the program. The team felt this held very low risk with great potential impact for our staff and strength of our church going forward.
We share this good news with transparency and pause. Without a doubt, not meeting in person results in lower overall giving. Gathering enough information to show a specific trend will take a little more time and many have taken the opportunity to transition to online giving through our website now. So many in our church have been, and continue to be faithful in their giving through a very strange season. May God bless you for that. We believe giving financially to the work of the church is a spiritual practice regardless of the church's actual financial standing. Beyond Covid-19, there will be new challenges, upkeep to our facilities, as well as seeking new ministry initiatives for Making God's Love Real.
Because of the volume of churches and businesses utilizing this program, it will be several months before we receive our final results of our forgiveness request. We look forward to sharing that update as well.
Again, we would like to thank the entire Church family for all of your prayers, support and gifts in this trying time and long for our first Sunday to Worship together again in the house of our Lord.
God bless you all!
Greg Gamble
Chairperson of Finance Team
Many Ministries are meeting this challenging time with new ideas.
Our Food Pantry drive through has been increasing each week. The number we are serving is 300+ families. Our new hours are 9 a.m. to 2 p.m. This allows us to get cleaned up and refreshed for the next weeks supplies that will come in on Thursday thru Monday. The Fellowship Hall has been used to spread out the to-go boxes and helps to keep sanitation of items easier.
Thank you to Larry and Rose Milks as well as Ceal Parker, who does the parking lot, for their leadership. They have a wonderful crew of volunteers to work with each week that are not in the vulnerable category.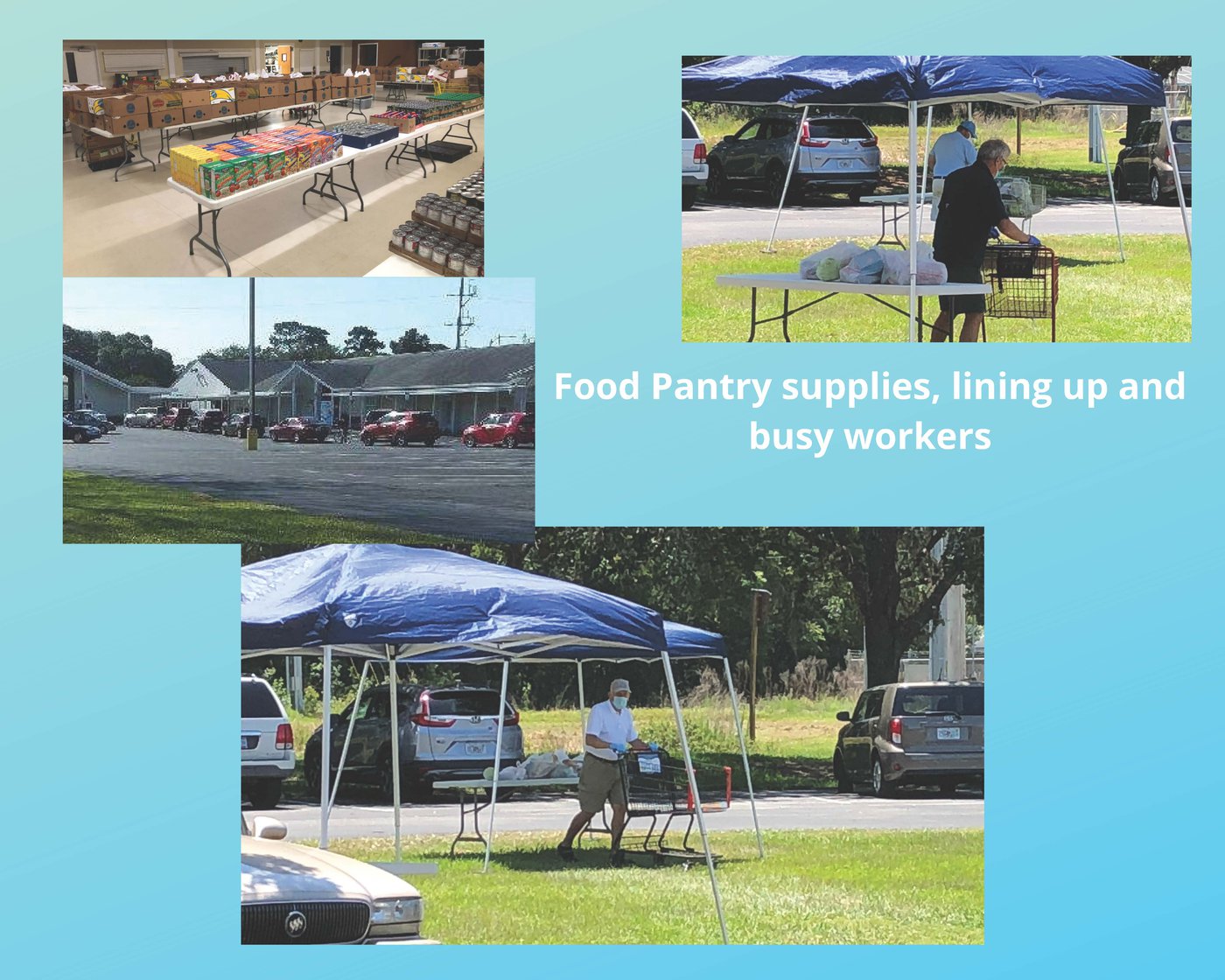 We are blessed by our church family recording themselves at home, reading devotionals, and musical talent by our leaders as well. You can find these on the web site under the Watch tab at the top feed line or if you use Facebook, SpringLife Church has its page where these videos have been shared. Check them out and share with those who may not know about it!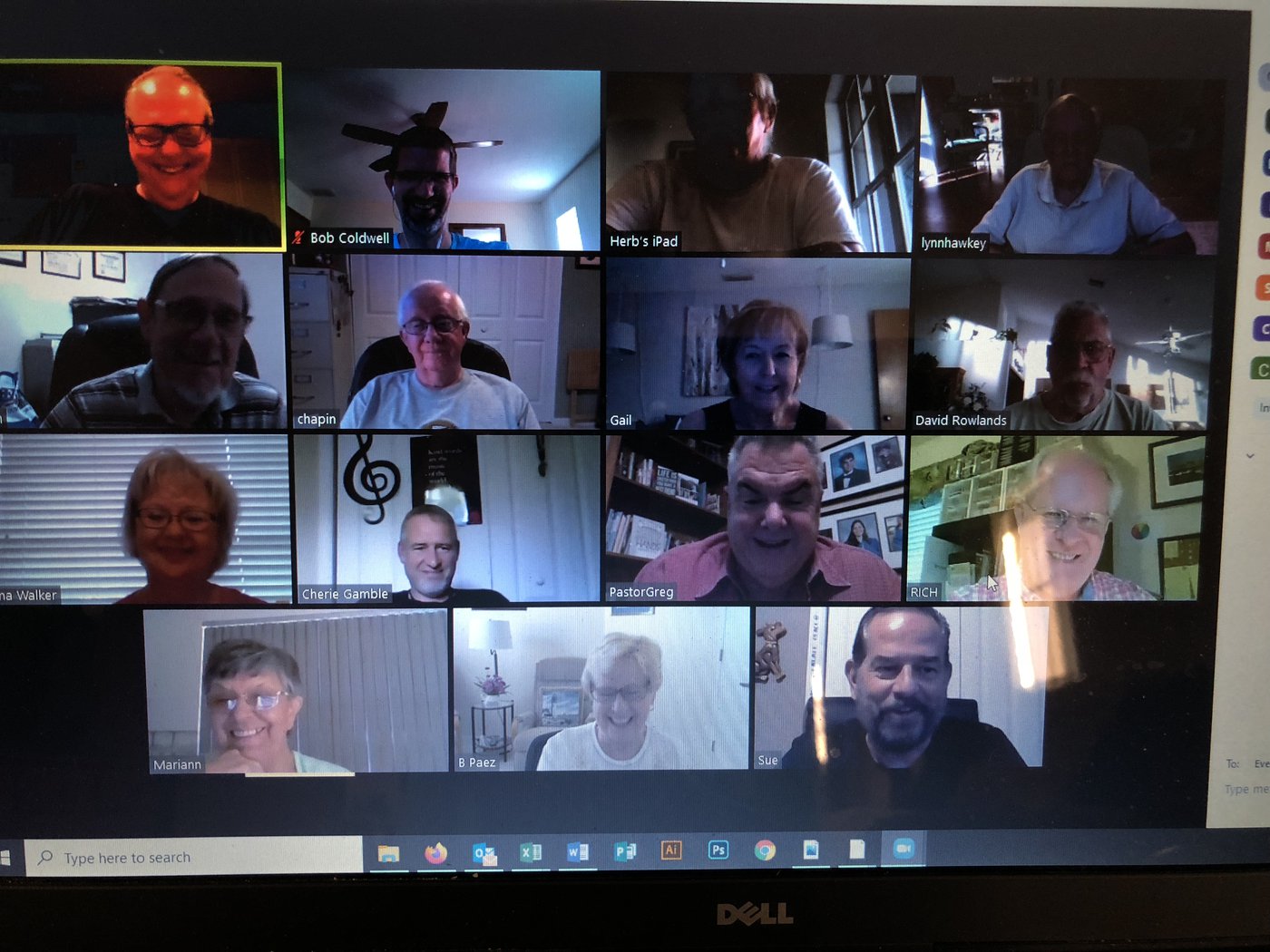 We look forward to when we can once again open our doors. Many of our ministries continue to meet together through Zoom. Our Wednesday Food Pantry has set in place 'drive-thru' pick-up for food items. The homebound and hospital visitors have been asked to make calls, rather than visits. If you know of someone in the hospital or rehab please let the office know. Many people are feeling isolated right now. You can make a difference in that person's life right now...they would feel blessed to have a phone call from you. Just knowing you care can pick up their spirits tremendously, and will bless your life as well. A few Ministries, including Tuesday Dinners, have had to suspend their activities for the time being, but will resume as health guidelines permit. We are all in this together. Thank you all for your patience and consideration of the health of others during this time when extra cautions need to be in place.
Special Update -Optional in person Worship has been offered by the FL Bishop after June 15, 2020
Churches must check their counties for activity of reported cases and follow a set of guidelines on how to re-open in person worship.
Our Task Team has been busy researching and developing the best plan for our church and will be updating with the dates and facts very soon!
(5/31) Hello church!
Hope you're all safe and well. We are partnering with the Bishop and the government to think outside the box and continue as the worshipping community. Though we must practice "social distancing", we can still reach out and care for one another as the worshipping community.
I encourage you to go through the directory and call someone within our church to check in and see if they are in need of assistance. Our older seniors should to be extra cautious and may need someone to pick up groceries, medicine, may just need to talk to someone.
At last check, there are now some 122 confirmed cases of COVID-19 in Hernando county. Please continue to minimize contact, and wash hands frequently. Our offices are currently closed to the public right now. Please call to share any updates you have on other members of our congregation.
Next Gen Leader, Bryan Quinn is busy at work.
While we go through this isolation time,not meeting on Wednesdays and Sundays, Bryan is reaching out to children, youth and the parents of to stay connected with at home biblical messages and activities. If you would like to be on this email list, send him a message at: nextgen@springlife.church.
Watch the weekly services with pre-recorded Worship & Music
You can still do "Church" !! Our pastors are recording a Special Worship Service each week for the website that you can watch anytime during the week - 24/7! Click here for the sermon of the week. Our Music Ministry provides special music each week to add to your worship and praise experience.
Mission of the Month for June: Jericho Road Ministries
As we look to help our community in this time of crisis missions such as Jericho Road Ministries are not only faced with declines in donations, monetarily or otherwise but they are also facing more clients at their doors. Jericho's Mission statement is "To lovingly proclaim the gospel of Jesus Christ to the economically, emotionally, and spiritually impoverished by responding to their basic physical and emotional needs, and by promoting Christian growth as characterized by a productive and changed life."
Our own mission & vision is "Make new and faithful disciples of Jesus Christ for the transformation of the world. Our vision is to Make God's Love Real through our cornerstones of Connect, Grow, Serve, and Share." It is quite apparent that both of our missions align not only with each other but with The Gospel of Christ Jesus and His teaching and commandments.
Here's just a few ways that Jericho helps it's neighbors: 1) Providing shelter for those who need a place to eat, sleep, shower and recover from life's challenges. 2) Aid families affected by fire, flood, or other natural disasters. 3) Offer training to prepare people to re-enter the workforce. And much more.
Jericho Road nourishes both the physical body and the spirit by witnessing to new disciples as they "lovingly proclaim the gospel of Jesus Christ". Jericho does not discriminate. A person seeking their help need not be a Christian upon entering. A person having accepted Jericho's help and then committing themselves to a nearly year long program, on the other hand, may very well leave as a committed Christian – a disciple of Jesus Christ.
If you would like to contribute to this mission, you can select that on our online giving page or write "June MOM" on the memo line of a check you send in to the church.
As always, Jericho still accepts donations of household goods at their thrift stores. And of course those same stores also have a variety of household goods for sale. If you have a donation you wish to be picked up here's their dispatch number to call: 352-799-2912 and press menu option 2. And their website where you can find more information and their thrift store locations is jerichoroad.net
Andres Schwartz – SpringLife M.O.M. champion for Jericho Road Ministries
Tuesday Night Supper, CANCELLED during JUNE!
Summer FunCamp is being Postponed for 2020
This is a very sad announcement for us. With the influence of Covid-19 this year, there are many new guidelines in place when it comes to operating a child care/summer camp environment. Everything from class sizes, check-in/out procedures, group interactions, playground time, meal time, and more have been impacted tremendously. After careful evaluation, the entire leadership team is in agreement that we have to make the difficult choice to not offer Summer FunCamp for 2020. We will miss our children and families immensely, but will dream of our opportunities for 2021.
Men's Bible Study ... Yes!
The men are using zoom.com to continue their Bible study. Contact Andrew Schwartz 703-581-7144 for the link to be included in the weekly study You do not need to be a member of the church, just have a love for God, to join this interactive study, read and hear God's Word. The weekly Bible study is held Thursdays, 9 a.m.
Ask the Administrator
6/5/20
Here are a few more updates from this week:
Staffing
Because of the quick response to participate in PPP, we have been able to re-utilize and support some of our most affected employees because of not being able to have church functions for the last 2 months. They have assisted in helping Bryan Quinn clean out storage areas for NextGen Ministries as well as making phone calls to many of you to check-in.
Facilities
Work was completed on a partial roof replacement for the South end flat part of the Light House. This area has been responsible for a few leaks over the past couple years.
Our new digital marquee sign was installed this week as the installer had a break in their schedule come up. It was a little earlier than anticipated, which we're grateful for, however, we still need a little electrical work done to support the upgrade. We anticipate this to be completed next week and can't wait to be able to share multi-messaging with our community.
Along with the completion of this, they were also commissioned to take down the 2nd sign half-way across our front property and also they removed the letters that were on the wall of the Sanctuary. The wall will get a pressure wash, holes filled in, and then a fresh coat of paint and the building identifier, letter "D" on it. These were some of the final steps of fully implementing our name change.
The Kidzone continues to get fresh paint
The Library received replacement LED overhead lighting
Finances
So far for the year, our finances are showing pretty strong compared to expenses. This is a little below anticipated income due to Covid-19, however general ministry expenses have decreased as well due to not gathering. With the help of participating in the PPP, we are trending well and as we catch our breathe a little bit, we are excited about the ministry opportunities we may have in the future.
We had a CD earmarked for facilities reach the end of it's term recently, which we "cashed out" in order to pay the remaining balance of the new sign and an upcoming A/C utility chase for the west end of the Sanctuary.
Snapshot of YTD thru Apr:
General Operating Received $305,116
General Operating Expenses $290,265
Building Fund Received $28,319
Building Fund Expenses $36,231
5/21/20
Since we are going through this wild time of pandemic and have not been able to share many updates personally, I thought I would try to carve out a little space to share some details for the more curious in the congregation. I want to offer the best up-to-date info I have with the understanding that it feels like I'm trying to catch flies with chopsticks (Karate Kid reference). The target for leadership decisions is always moving right now. I'm grateful for the support and working relationship from all the Ad Team and Ministry Team Leaders as we walk through this.
There are those wondering about our Staffing, Facilities, Ministries, Technology, and Finances to start with. Some of these topics are very intertwined. Feel free to email me and submit a question.
Staffing
Some of our staff are working harder than ever through this! Mike Conway, our Media Tech and Theresa Smith, our Treasurer have been going all out to serve the church, providing digital worship and a lot of financial information recently.
Facilities
There have been several "lower cost" projects on the list for our facilities staff and this has afforded the chance to work on many of them.
Patching and repainting the hallways to the choir room
Patching and repainting all of the S classrooms in the Sanctuary
Attend to an A/C drainage leak in the Fellowship Hall
Update some smart thermostats around the campus
Repainting white trim in the Fellowship Hall
Paint the Kids Zone
Paint Lobby as part of a bigger refresh project
Also, we received word from our sign installer that the plans for our new digital marquee sign have passed city code. The device is on order and install plans are being made. Awaiting finalized rendering to share with you.
Finances
Next week I hope to release a more detailed summary in partnership with Greg Gamble, our Finance Chair, but a basic view is this. Not meeting in person and especially on Easter Sunday had a financial impact. Many of our snowbirds needed to return home to be with family and near doctors earlier than we would normally forecast. The good news is that our expenses also decreased on account of less A/C, lights, and ministry supplies. This is being monitored closely and again, I look forward to sharing more good news next week.