Here's What's Happening in the Life of the Church
In-Person Worship! We've setup a separate page to address concerns of Covid-19 and In-Person Worship.
Just TEXT the word "check" to church phone number to let us know you are 'viewing' Worship services.
It's so easy! Some of us are attending in person but others still feel unsafe doing so.
After you watched the weekly message, use your smart phone to send a text message to the church phone # 352-683-2600. Text the word "CHECK" and send along, instantly you will be sent a link and if you follow that link you can check in yourself and any others in your household as having viewed the weekly message. This helps us stay connected to you and know that you are actively participating in the life of the church. Go ahead and save the number as a contact in your phone as there will be additional features available as well.
Scholarship Applications for pursuing a degree or certificate program beyond the secondary school level are available. See below:
From the Pastors Desk/May 26, 2021
I'm finally back in town and back in the saddle!
I want to say Thank You to GH, the Leadership, and You for allowing my renewal leave. I spent a lot of it on the road, putting over 1500 miles on the Harley. I spent time in GA with family, a cabin in NC, family in KY, the Ark Experience in Ky, then a cabin in TN, back to GA, attended a conference in AL, back through Tallahassee (family), home for a few days, then spent last week in Orlando with Kris' family and participated in my mother-in-law's Celebration of Life (part 1) at Bushnell. Through the wonders of technology I was able to worship with you online from afar.
As many of you know, my father passed away while I was away. We'll be holding his Celebration of Life service June 12 at our home church, Temple Terrace UMC. Thank you for the outpouring of love, cards and prayers the family and I have received over the last 2 weeks.
Finally, one of my goals on leave was to spend time in prayer and study, reading the Bible through cover to cover. I used the Wesley Study Bible. While I've read through the Bible many times, it was great to have the focused time to read through in just a few weeks.
I'm sharing a new series that I'll need some help from you. I'm calling it, "Guidelines for Holy Living". We live in a day and age where truth and values are considered relative. The question we should be asking is, "From where, or whom, do we get our values?" God has laid down His guidelines for holy living in His word. The root of many discussions in the Christian Church today is over the authority of Scripture. I'm still an "old school" guy who loves Jesus, and find truth, grace, hope and love in His Word. Like the lyrics in an old children's song, I recently shared at an ecumenical pastor's gathering,"I stand alone on the Word of God, the B-I-B-L-E"! I'd love to know what questions you might have about, "What does the Bible say about...."? Please email me your thoughts, questions, and I'll be glad to respond each week to the most frequently asked questions.
Remember to email me your questions about Biblical values to greg@springlife.church, and I look forward worshipping with you this weekend.
Pastor Greg
Please consider serving the Lord at your church, see link below!
We've finished 3 Church Chats on denominational business, see link below for summary's
Prayer and Healing Service in Person Tuesdays at 9 AM
Jan Griffioen leads the Prayer Service in the Choir Room. Prayers, sharing, anointing, scriptures, meditations and music. Call the office for more info, or if you would like to attend in person, 352-683-2600 x 0.
Books of the Bible on video
Through the recordings of 75+ church family volunteers, we have available a number of Old and New Testament Books of the Bible on our website. If you enjoy Psalms in particular, you can go directly to listening to the Psalms. If you have a preference for the Gospels - Matthew, Mark, Luke or John - we have them available also, as well as many more Books of the Bible. Each one lovingly presented to you for your listening and viewing pleasure. It is set up so you can easily choose to watch any of the Books and pick up at any chapter recorded by our very own SpringLife Church family! If you'd like be a reader participant, please contact the office.
Take-Out Tuesdays are here.
FREE Tuesday Dinners is a take-out style meal service each week. Pick-ups start at 5 pm. It is very important we use our resources wisely and an accurate head-count is so very helpful to reach that goal. Reservations can be placed up to Noon on Tuesday or when we have reached our limit, whichever comes first. Please reserve your meal(s) by texting the word "takeout" to the church phone #352-683-2600 or click the link below:
Prayer Ministry Update- Thank you Prayer partners for signing up- keep on doing so!
We currently have 64 Prayer Partners who receive weekly email updates for prayer requests. These requests come in by phone to the office, but mostly by prayer cards on the website. Phone calls and weekly communications with the church family is vitally important for this ministry and results in finding needs for prayer that way as well. We celebrate our Praises and answer to prayer also.
Thank you to Jan Griffioen for taking the lead on " in person" Healing and Prayer at the church on Tuesday mornings. She has a small core of folks who show up each week and our printed prayer list is shared with them. She is encouraged to have others join as they feel safe to gather for songs, Intercessory prayer support and communion.
NextGen Ministries
The NextGen is "planting many kinds of seeds" and "tilling the soil" in preparation for our growth potential. Leviticus 19:23-25.
I am currently sending teams to check out various retreat venues for moms and dads for the purpose of connection (to God and to others). After the teams come back with their experiences, I will evaluate whether or not to pursue this particular retreat as a means of connection.
The NextGen teens are preparing to go to a camp that has a history of making new disciples of Christ. In the camp, each church/cabin leaves space for a camp sponsored foster kid in which we are to take under our wing and mentor throughout the week. This makes our camp experience a sort of mission trip experience as well.
The NextGen Program team is being developed and trained. This will be a collaborative team that will help create and implement content and design for weekly programming.
The NextGen Program team is currently working toward a "soft launch" with our NextGen kids this June. The theme this summer is "Press Play" and is about building confidence in faith.
The NextGen Events team is working on Summer events for our NextGen kids.
The NextGen teens are looking to do a service project along the coast at the end of the month. This project is being sponsored by the Sea Scouts and is presented to us by Brenden Young - one of our teens.
Further, the NextGen ministries are looking for an August launch. This launch will start the cycle of our yearly strategy - yearly scope (Fall to Summer); quarterly discipleship themes; monthly -teachings, events, family experiences (camps, retreats, conferences), and more. . Bryan Quinn
"Jericho Road" June Mission of the Month
Jericho Road Ministries is our Mission of the Month (MOM) for all of June. Each week we will share a bit more about the depth and breadth of this wonderful ministry right here in our backyard.
"Jericho Road Shelters are designated emergency and cold weather shelters. Individuals or families in immediate need of a place to stay can find help at our shelters. No program commitment is necessary for these short-term stays. We provide access to shower facilities and basic toiletries. Individuals will also receive a meal, a change of clothes, a bed for the night and an invitation to take part in the evening's chapel services.
"Opened in 2009, the Jericho Food Barn provides food to individuals and families in need. It is located behind our women's shelter. Donations of non-perishable food items can be dropped off at any of our thrift stores. In addition, we receive contributions from church and school food drives, as well as donations from local businesses. Any individual with a Hernando ID is eligible to receive food. So far in 2021, we have averaged 16,435 lbs of food distributed per month. "The treatment that we received here at Jericho was amazing...because of all that Jericho did we were able to get back on our feet." -former Jericho food barn recipient."
If you would like to donate in support of this ministry, please use the link below and designate June MOM.
Men's Bible Studies...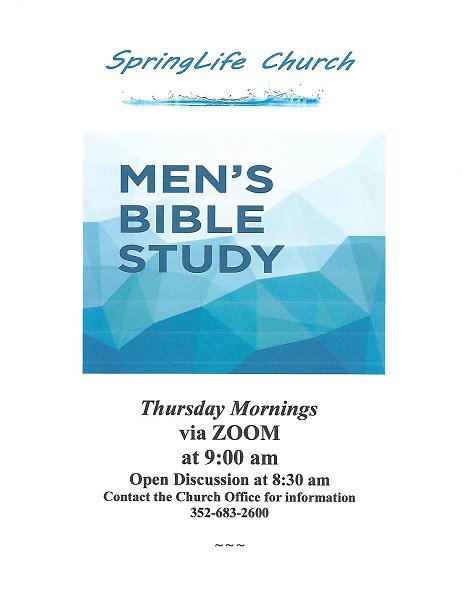 The men's Thursday Morning Bible Study is returning to Zoom only for the time being. The group connects at 8:30 a.m. with the study beginning at 9 a.m. The current study is the Book of James. Contact Andrew Schwartz 703-581-7144 for the zoom link to be included in the weekly study.
There is also a small UMM Tuesday Morning 8:30 a.m. "Apologetics" Bible study group that is switching to zoom for the summer months and begins a study with another Lee Strobel book called "Case for A Creator." Please contact the office to be included in this zoom study.
You do not need to be a member of the church to join either of these interactive studies to read and hear God's Word. Just have a love for God!
Ministry Updates - June, 2021
The Healing And Prayer Service
We meet every week on Tuesday's at 9 a.m. in the Choir Room.
Music Ministry
Chancel Choir practice has resumed for members who have been fully vaccinated - that includes about 30-35 positions.
We are sad to lose Ashley McCall,our accompanist and friend. I have been given the green light to take over her position as the Leader of the Praise Band and will be incorporating the music and Chancel Choir together more as time progresses this summer with the one church service at 10:30 am. ~David Pletincks
L.I.F.T. Ladies in Faith Together
The board of LIFT (Ladies In Faith Together) met in person this month at Church wearing masks. It was great to be together. It was discussed and decided to make contact with each active member at least once a month. Each board member has a list of women to communicate with monthly. We continually keep the members updated by email. ~Judy Kalee, President
The United Methodist Men
We are in Spring season campus maintenance. A drainage ditch was recently dug out and pipe installed for better water runoff management off of the detached garage building. Lawn maintenance although not yet in full swing has begun. A project to cleanup and maintain the playground mulch will be completed this week.
This morning was our board of directors meeting for May, meeting in person (masked up) on campus. Two subcommittee chairmen will commence working on two different projects to engage the youth of our community with our church. A motion to begin a process of changing our organization's name was approved. A subcommittee will soon be called together to supply a list of possibilities.
Our annual "President's Letter" was sent out to over 460 men of our church. A survey was included asking to be filled out and returned. The data collected should help create a better database listing the various skills and interests of the men at large. This data could be very useful to both our church and the UMM organization as we hope to engage our men today with the men and families of our church tomorrow. This letter also serves as a fund raiser and identifies the various missions that we support including some that are within the church. . ~Andrew Schwartz, UMM President
The Library
We have now been open to serve our Church family on Sunday mornings for 30 minutes before and after the 10:30 Worship service. The library continues to be open on Tuesdays from 10 am – 12 noon. We have enjoyed visiting with a variety of patrons each week. To view recently added materials use the Online Public Access Catalog available 24-7 at www.SpringLife.Church , click on LIBRARY from the menu. Remote checkouts can be requested by contacting us at library@springlife.church. We will check out the resource to you and make it available in the church office; or just come and see us on Tuesdays.
Even more exciting and interesting books, audio books, CD's and DVD's have been received and are being processed. They will be available in January. Communications about these new materials will begin then.
Discussion with existing library volunteers is ongoing. I am working with them to determine their level of interest in staffing the library when open, working with the new technology, and continuing with previous tasks that need to be resumed.~Lynn Logue
Food Pantry report
Blessings to all from the food pantry, we are going strong and are in need of summer volunteers to work various days for the ones who are feeling safe this year to travel and see family up north. Please see the church website "Ready to Serve" page to volunteer under the Community card. Rose milks will reach out to you to get yhou connected in serving the pantry clients. ~Larry Milks
Take out Tuesdays-Tuesday Night Dinners Ministry
Praise God that Take Out Tuesday served 640 meals in the month of May. Those of us who work in the Tuesdays meals very strong about helping our neighbors. We like to think that helping people with meals will help them feel closer to our church and prayerfully get closer to God for eternal life.
The kitchen needs some changes in the way it is set up so we can serve as many people as we do more efficiently. We are working with the trustees to complete the kitchen. We thank God for our volunteers and all the help we get from our church staff. ~Jan Griffioen
Congregational Care Report- May 2021 Monthly Report
Care Companions-Care Companions- We have 13 wonderful Care Companions. We were able to get together at my home for brunch in early May to celebrate and thank God for what our ministry has done and who we have touched in the past eight (8) months. Let me introduce these caring people and thank them for their service and servant hearts: Deb Babine, John Bachtler, Elsie Bryan, Sue Doucet, Kevin and Mary Herrick, Deb Larkins, Charlene Linton, Bob Logue, Dave and Jan Miller, Doug Miller, and Jackie Stout.
Care Receivers- Lorenda Rodriguez continues to keep her finger on the pulse of those in our congregation who need our ministry. We pray about if/how we can help and then try to match up that person with one of our Care Companions.
Our ministry is still serving between 30 and 35 church members. Many of us are able to meet with our Care Receivers in person, now, which is a blessing.
We are still looking for Care Companions as we have more congregational members in need than we can match with Care Companions.
Casserole Ministry- We continue to offer homemade casseroles to our Care Receivers. Since January, our Care Companions have delivered 24 casseroles. Currently we have Chicken Pot Pies and Tuna Noodle casseroles in the freezer. We have offered Beef Stroganoff, Ham and Cheesy Potato, Chicken Alfredo, Shepard's Pie and Chicken Tetrazzini. ~Cheryl Miller
Kairos Prison Ministry
Still planning on having our big 3 and a half day weekend September 30-Oct 4. Praise God we have received approval for it. We are still allowed our every third Saturday for gathering in the Chapel. The residents are always so grateful for our dedication to showing up to encourage them and worship our Heavenly Father.
One thing we can continue to do, however, is pray for everyone on the HCI compound and the volunteers within the Kairos community. Thank God we do not need a specific place or time to pray. We can raise our praises, requests and thanks to Him at any time or place! ~ Blessings, Nancy McClellan
Next Gen Ministry
The NextGen Ministry has been busy, and we are on track with my 5 year plan based on Leviticus 19:23-25
Year one: Survey the land
Year 2-3: "Planting seeds of many kinds"
Year 4: Relentless Discipleship and Continual Pruning
Year 5: The year of Abundance
Kids Ministry - We are just about ready to rock and roll this Sunday June 6th. Just a few minor tweaks and we are set. Our biggest need is people. I went from 7 to 3 volunteers in the course of a couple of weeks - mostly unrelated life circumstances.
Right now I have one adult small group mentor per each age group. Each age group is split as follows: 3y/o to Kindergarten; 1st - 3rd; 4th - 5th.
Need: Ideally I would have 10 adults that would be divided up into 5 groups with 2 adults per age group. 2y/o and 3 y/o; Preschool; K - 1st; 2nd - 3rd; 4th - 5th.
I am also wanting to recruit some A/V techs and High-fivers (greeters) for Kids Church.oft launch". We will be doing children's church at the 10:30 am service time.
Youth Ministry- We have 10 registered for camp this year. Its almost not worth taking the bus, so if you know anyone with a 12 passenger van to loan us, I would entertain that option. Otherwise, we will take the bus. Likewise with Kids Church, we are in need of people. Right now we have 1 volunteer.
Need: Ideally, we should have 6+ volunteers. If we were to have 6+ volunteers, I would be able to split Middle school and High school into 2 different groups.
Parents - there are some things in the works for the purpose of connecting parents to each other in order to build community. ~ Bryan Quinn
Ask the Administrator
6/4/21
With the rollout of vaccines and many finding their way back to services, we still see about about 1/3 of our congregation joining in worship online.
With the exciting job opportunity Ashley McCall has for her career, David Pletincks has stepped up to lead our music program as one unit and we look forward to continuing our one service at 10:30 through the summer.
We are currently seeing about 30% of giving come through our online methods. This is an encouraging trend and thanks to those who have made that switch.
Here's a financial update through April 2021:
Anticipated Expenses: $336,020
Operating Giving: $289,824
Actual Expenses: $302,670
Mortgage Giving:$29,473
Mortgage Expenses: $36,228
We continue to keep a close watch on our expenses and giving through this Covid season.
6/4/21
Our round of 2nd shot vaccine events are completed. We feel confident in the community response overall, we will continue to monitor a combination of local, UMC conference, and CDC guidance to help determine our approach to in-person protocols.