Here's What's Happening in the Life of the Church
October is Pastor Appreciation Month
"Now we ask you, brothers, to respect those who work among you, who are over you in the Lord and who admonish you. Hold them in the highest regard in love because of their work. Live in peace with each other." 1 Thessalonians 5:12-13
That says it all...hold your Pastors in highest regard in love. Pray for your Pastors and their families each and every day. They have a 24/7/365 day position in which they genuinely care for each one of you and this church, all the time. We encourage you to find ways to express your appreciation and support for Pastor Greg & Kris Freeze, and for Pastor GH & Barbara Trumbo. You could invite them to lunch or dinner, or give them a gift card to a restaurant. And never underestimate the value of how uplifting a friendly handwritten note or card of appreciation is.
In-Person Worship is set for October! We've setup a separate page to address issues of Covid-19 and In-Person Worship.
Just TEXT the word "check" to church phone number to let us know you are 'attending' Worship services.
It's so easy! Our Church Teams database makes streamlined technology available to us and especially now when we cannot meet in person we find this very useful.
After you watched the weekly message, use your smart phone to send a text message to the church phone # 352-683-2600. Text the word CHECK and send along, instantly you will be sent a link and if you follow that link you can check in yourself and any others in your household as having viewed the weekly message. This helps us stay connected to you and know that you are actively participating in the life of the church. Go ahead and save the number as a contact in your phone as there will be additional features available as well.
Trunk or Treat, Oct 31st
We have the go-ahead for a Trunk or Treat for Saturday, October 31st from 5:30 pm to 7:30 pm! We are looking for donations of individually, pre-wrapped candies without nuts (for allergy sensitive children). We are hopeful to sign-up 50 cars for this event. Use link below. Please decorate your car and come in costume if you like (nothing scary please).
*MORE - Video Bible Readings
Thanks to 70 + volunteers we have recently completed a number of Old and New Testament Books. The complete Psalms will be up shortly. These videos are a great way to listen to God's Word being read to you by members of your church family. During this pandemic, many of you have time on your hands and if you would like to participate in recording, please let us know in the office!
Engage This Fall
SpringLife Church is Revitalizing its Congregational Care Ministry And We Want You to be Part of It!
SpringLife Church is full of caring and loving people. One of our Cornerstones is to SERVE others in the name of Christ. Do you feel the nudge to help others within our congregation who may need a visit or services, but just don't know how to plug in? The Congregational Care Ministry may be the electrical outlet you are looking for. We need Care Companions who want to share compassion, time and Christ's love with others.
If you are interested, please attend our Care Companion orientation on Monday, October 19, either 10:30-12 noon, or 1:30-3:00 p.m. or from 7:00-8:30 p.m. in classroom S#2. Please choose the best time for you. We plan to do everything possible to help you be comfortable in your role…we will have some fun, get to know you, walk through responsibilities and resources, and share real-life experiences.
Please contact Cheryl Miller, Congregational Care Ministry Leader, by Friday, October 17 to register and/or find out more about the ministry. 402-681-3769 text or call, and cherylemiller66@gmail.com to e-mail.
Weekend Blessings
A group of volunteers from our church partner with People Helping People in town to provide weekend food for many students in this county through a program called Weekend Blessings. Our team lead is searching for more volunteers to assist in a variety of ways.
Also some of the staple items that are needed include juice boxes, small bags of chips, fruit cups, or mac n cheese can be dropped off to the office.
Bloodmobile - will be here Sunday October 18th.
The Gift of Life Bloodmobile will be coming to our campus on Sunday, October 18th. We are told the bus is able to safely hold 5 donors. They will arrive 9 a.m. for anyone wishing to donate before the 10:30 service. They plan to stay until 12:30, but later if someone is still waiting to give. A plus for your donation is a free screening for Covid-19 antibodies. If you have the antibodies you will be a big help to more than one person suffering from the virus. Thanks a Bunch....Lois Peters, The Gift of Life Ministry
Prayer Ministry Update- Thank you Prayer partners for signing up- keep on doing so!
Our Church's weekly prayer list in maintained and updated each week. If you would like to receive this list in an email,
This will include you each week! We love hearing from you and including you in our prayers. Fill out a prayer request on the Prayer card on the home page of website or email to Lorenda at connections@springlife.church.
Praise reports and updates are always welcome so let's hear from you this week!
Please let the office know even if you will be in a hospital that is NOT local. We can still include you in our prayers!
Join us Tuesday mornings at 10am on Facebook for a Live Sermon Recap with Nancy and Bob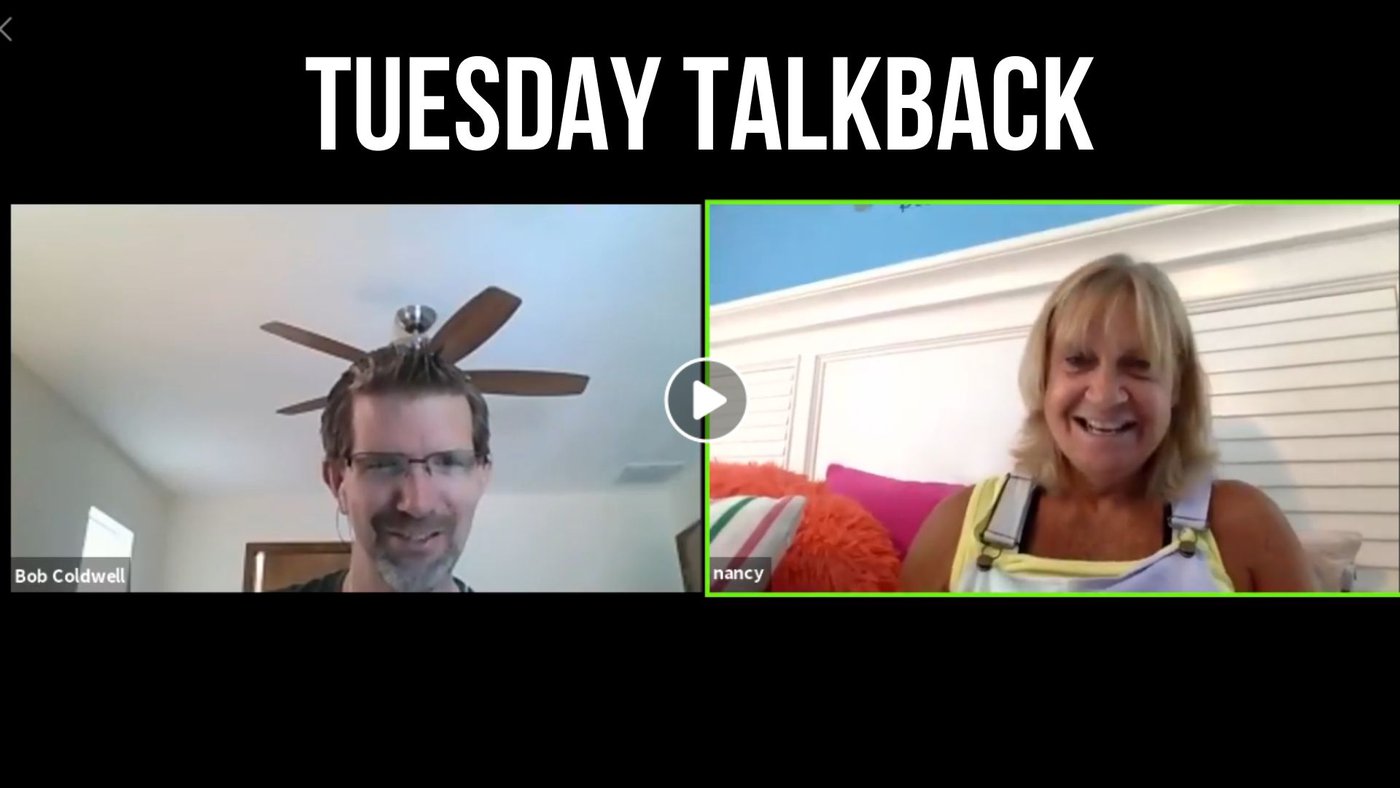 NextGen Ministries
The NextGen Ministry is ONE ministry that supports the larger church by helping families "Win at the things that matter most"
What's going on right now?
Children's online Sunday School can be found on our website SpringLife.Church/nextgen
NRE - NextGen Resource Emails - is the best place for parents to stay in the loop, gain helpful resources, and stay connected to the NextGen Ministry. Sign up today through our website SpringLife.Church/nextgen
In person Children Sunday School is still on hold for the time being. Sign up for our NREs for more info.
Youth Group is meeting in person in the "A" building Sundays from 3-4pm. Sign up for our NREs for more info.
We have a parents only Zoom meeting every first Monday of the month called "Parents' Time Out", so if you are a parent of a child from birth to not-yet-graduated, then you are invited. Sign up for our NREs for more info including a Zoom link to the parent gatherings.
Look Forward To...
Children's Sunday School is not open now, we will be opening soon. We are in need of help! Check below in our needs section of more information.
TrunkrTreat! October 31 from 5:30-7:30 pm. Check below to see how you can help out.
Needs:
Children's Programming needs your help! We are in need of volunteers in every area of the ministry: small group leaders, program coordinators, tech, craft specialists, welcome/check-in extraordinaires and more. We need people who love kids and who love Jesus. If that is you or you're just curious about kids ministry, email me directly nextgen@springlife.church.
TrunkrTreat will be held Oct. 31 from 6-8pm.
candy donations - can't man a trunk but want to participate? Grab a bag of "individually wrapped" candies and bring it by the church office during office hours. We need to be mindful of allergies so nothing with nuts please, or candies that will 'melt.'
Trunks. We need you to pass out candy. Measures will be in place to keep everyone distanced and safe. We need a minimum of 30 trunks.
Mission of the Month for October: Operation Christmas Child
Our Mission of the Month for October is Operation Christmas Child (O.C.C) which is a division of Samaritan's Purse. O.C.C's mission is to provide God's love in a tangible way to children around the world working through local churches worldwide to share the Good News of Jesus Christ. It puts some physical gifts in the hands of these children as well as the gift of eternal life through the "Greatest Journey," a 12 week discipling program that culminates in a graduation ceremony along with the presentation of a Bible in the child's native language. Via this process and the natural multiplication of these children telling others about Jesus and what they have learned , the Gospel is spread to all the world in a manner no different than the one Jesus sent his original followers out to perform.
This year due to various concerns about Covid, our Church, SpringLife, will not be distributing, packing, returning, and delivering the shoeboxes to consolidation points but rather focus on direct giving either via the Churches online giving mechanism for MOM's or via writing a check to SpringLife Church and denoting Samaritan's Purse in the memo line. These funds will be used to support transportation and discipleship materials costs. One other option is available for those so interested. By going to the Samaritan's Purse website: www.samaritanspurse.org and clicking on their Build a Shoebox option you will be able to shop, pack, and ship a box for a $25 fee without even leaving the comforts of your own home.
If you have any questions about this program, please contact Bill Gamlin at 353-556-4285. Merry Christmas!
Men's Thursday Bible Study ... Yes!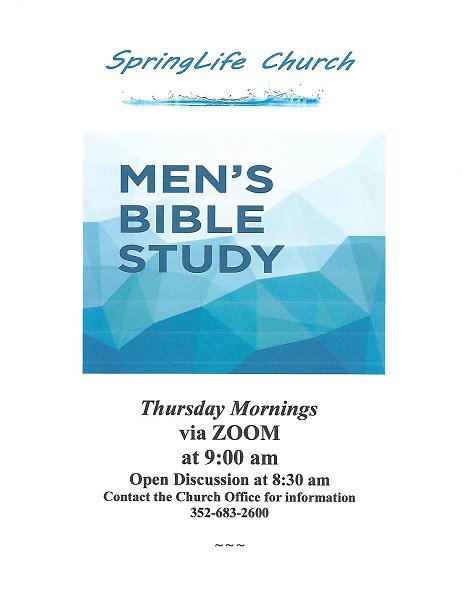 The men are using zoom.com to continue their Bible study. Contact Andrew Schwartz 703-581-7144 for the link to be included in the weekly study You do not need to be a member of the church, just have a love for God, to join this interactive study, read and hear God's Word. The weekly Bible study is held Thursdays, 9 a.m.
Annual Charge Conference
The Charge Conference will be virtual this year. It will be held Sunday, October 18th at 4 p.m. If any church member wishes to attend the Zoom Charge Conference to observe only, please contact the church office for the link by 2:30 p.m. this Friday, Oct 16th. Remember, you will be viewing the proceedings only and are not eligible to vote.
Ministry Updates - October 7, 2020
The United Methodist Men
The UMM have previously budgeted for donations to several missions this year and as we are now in the fourth quarter of 2020 have distributed those funds.
Those missions include SpringLife church's Scholarship Fund, Habitat for Humanity, the Boy Scouts (local chapter) and Aldersgate Emmaus (local).
And, as always, the UMM continue to maintain the grounds of our church.
Respectfully submitted,
Andrew
The Church Library Update
We are excited to announce the library will be open Tuesday October 13, October 20, and October 27 from 10:00AM – 12:00PM. We will practice social distancing, wear masks, and wipe down materials as needed. There are three options for obtaining materials:
1. Patrons may stop in and see the changes we have made while browsing for books, DVD's, or CD's to check out.
2. Patrons can call the church office and let them know what materials they would like to check out. The office will notify us, and we will pull the materials and leave them in the office for the patron to pick up.
3. Patrons can call the church office and ask to be transferred to the library, tell us what materials you would like, drive up to the library and we will pull the materials and bring them to your car.
Blessings,
Lynn Logue
Food Pantry
*We continue to serve regular and new clients each Wednesday. New hours: 9am—2 pm.
*We will provide Thanksgiving Dinner food items to the clients each week through the month of November. Due to Covid, we will not be collecting Thanksgiving Baskets. The number of volunteers required to organize and execute this endeavor far exceed the number of people who can gather at this time.
Connections at SpringLife Church
*The Prayer Ministry has grown from 20 members to 60 members. People have shown increased interest for praying for the church and the congregation through this pandemic.
*We have added a Congregational Care Ministry with Cheryl Miller spearheading this effort. The mission of the Congregational Care Ministries at Spring Life Church is to provide spiritual, emotional, relational, and practical support to congregational members in need: are homebound, are suffering a loss, need after care from disease or hospitalization, need short-term respite, or other reasons recognized by pastors, staff members, or lay leadership.
Weekend Blessings
Each Thursday we fill backpacks filled with non-perishable foods for 31 children (14 families) and take these to the West Hernando Middle School for distribution for each weekend. Many children would go hungry over the weekend without the additional nourishing foods provided in these backpacks. For some, their main source of nourishment during the week is from the school menus.
Ask the Administrator
8/20/20
I wanted to take the opportunity to share a financial update thru July:
Anticipated Expenses: $587,340
Operating Giving: $543,183
Actual Expenses: $530,109
Mortgage Giving:$49,381
Mortgage Expenses: $63,405
There are were additional funds (~$6,000) through the Paycheck Protection Program that were eligible for the interest portion of our mortgage payment for 2 months which is very helpful.
We continue to keep a close watch on our expenses and giving through this Covid season. Our Finance Chair, Greg Gamble shares more in a video update above.
8/15/20
Well it's been a pretty wild week for technology around the church. Lightning storms knocked out the computer network and seems to have impacted a few air conditioners also. We were able to get most of it back up and running and there are service calls on the A/C units. Our worship recording was adjusted thanks in part to all of our great leaders and volunteers. We got to end the week with a win by getting our new digital sign out front up and running. Special thanks to the Trustees and Don Barrett for spending plenty of time in the hot sun with our contractors. You can watch the video update above, or better yet, come drive on by for a closer look.
7/24/20
This week we want to highlight Chuck Houck. Chuck joined our church, plays drums in our band, and eventually joined our staff as custodian about two years ago. Chuck and his wife, Terri, made the decision last month for Chuck to retire. He and Teri are making plans for their leisure time, part of which Chuck is excited about volunteering with Mike Conway and the tech team. (If you don't know Chuck, you can see him playing the Cajon or Beat Box for worship this weekend. We praise you for your service Chuck and hope you enjoy your retirement!
7/10/20
We've been a digital church now for more than 3 months and it continues to be a wild ride. Today I wanted to share some good news and celebrate a staff value we have of being "All-In". All-In can show up as a dedication to get the job done well while there are obstacles still in the way. It can be going the extra mile because it has a high value to those whom you lead or serve. This has been lived out during this particular season by Mike Conway. The shift to become a digital church has been coined in the church leaders community as a "pivot".
We were pretty good at doing one thing, and then suddenly we had to learn how to be good at another. Mike has adjusted his work schedule around the needs of others and seemingly around the clock in order to make online church happen for the rest of us because he believes in and enjoys the part he plays for our mission. The really good part is that as we have lived into this new digital understanding and evaluated the skills and needs, as of this week, Mike has been adjusted from 30hrs to 40hrs Full-Time employee status. We're grateful for his willingness and heart to serve alongside us here at SpringLife Church!